NBC Sports wins television – Media Eclipse Award for Kentucky Derby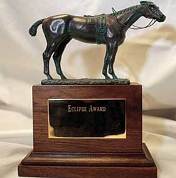 The National Thoroughbred Racing Association (NTRA), Daily Racing Form and the National Turf Writers and Broadcasters (NTWAB) today announced that NBC Sports has won the Media Eclipse Award for Television – Live Racing Programming for its broadcast of the 2013 Kentucky Derby. The 2 ½ hour live telecast from Churchill Downs in Louisville, Ky., aired on May 4, culminating with the victory of Orb in the 139th "Run for the Roses."
The 43rd Annual Eclipse Awards dinner and ceremony will be held on Saturday, January 18 at Gulfstream Park Racetrack and Casino in Hallandale Beach, Fla. The Eclipse Awards are presented by Daily Racing Form, Breeders' Cup and The Stronach Group and produced by the NTRA.
NBC's Kentucky Derby broadcast coverage delivered an array of race reporting and insightful background stories on many of the 19 starters in the race. NBC incorporated celebrity interviews with stars of movies and television from a vantage point overlooking more than 150,000 in attendance on a rain soaked afternoon.
"The Kentucky Derby is one of America's greatest sporting events. With 50 cameras and a production team of more than 200 dedicated men and women, we produce the Derby as a big event," said NBC Sports Group coordinating producer Rob Hyland. "Our production team did an excellent job telling the stories of the 139th Kentucky Derby. I am extremely proud of the high standards and passion our entire production team has for this sport and we are honored to win this prestigious award."
NBC deployed a total of 50 cameras throughout Churchill Downs for its telecast, including 18 hard cameras and 14 handhelds. NBC also utilized its overhead camera in replays to isolate Orb's sweeping move around the far turn over a muddy racetrack into the stretch to take command of the race. The broadcast was punctuated by Brothers' interview on horseback with the excited reaction of winning jockey Joel Rosario.
Supporting the live production, NBC also incorporated pre-race segments featuring Gary Stevens interviewed by Bob Costas about leaving the broadcast booth to return to racing at age 50 and a profile of Kevin Krigger, rider of Goldencents, in his quest to become the first African American jockey to win the Derby since 1902.
In addition to Hyland, as producer, the Derby telecast was directed by Drew Esocoff. Tom Hammond and Bob Costas hosted the program and were joined by analysts Randy Moss and Jerry Bailey. Laffit Pincay, Jay Privman, Kenny Rice, and Donna Brothers were the reporters. Bob Neumeier and Mike Battaglia provided handicapping information and analysis, and Larry Collmus called the race.
Judges for the National Television – Live Racing category were: Jack Coffey of Eclipse Productions; award winning producer Toni Slotkin and producer Doug Wren of Wren Productions. Honorable mention in the National Television – Live Programming category also went to NBC Sports for its live broadcast of the Breeders' Cup World Championships from Santa Anita Park in Arcadia, Calif., which aired on November 2.
The Eclipse Awards are named after the great 18th-century racehorse and foundation sire Eclipse, who began racing at age five and was undefeated in 18 starts, including eight walkovers. Eclipse sired the winners of 344 races, including three Epsom Derbies. The Eclipse Awards are bestowed upon horses and individuals whose outstanding achievements in North America have earned them the title of Champion in their respective categories. Those awards are voted by NTRA, Daily Racing Form and the National Turf Writers and Broadcasters (NTWAB). Eclipse Awards also are given to recognize members of the media for outstanding coverage of Thoroughbred racing.
Tags: 2013 Kentucky Derby, 43rd Annual Eclipse Awards, African American jockey, Arcadia, Bob Costas, Bob Neumeier, Breeders' Cup, Breeders' Cup World Championships, CA, Churchill Downs, Daily Racing Form, Donna Brothers, Doug Wren, Drew Esocoff, Eclipse Awards, Eclipse Productions, Fl, Gary Stevens, Goldencents, Gulfstream Park, Hallandale Beach, Jack Coffey, January 18, Jay Privman, Jerry Bailey, jockey, Joel Rosario, Kenny Rice, Kevin Krigger, KY, Laffit Pincay, Larry Collmus, Louisville, Media Eclipse Award, Mike Battaglia, National Thoroughbred Racing Association, National Turf Writers and Broadcasters, NBC Sports, NBC Sports Group, NTRA, Orb, Randy Moss, Rob Hyland, Run for the Roses, Santa Anita Park, Saturday, The Stronach Group, thoroughbred racing, Tom Hammond, Toni Slotkin, Wren Productions
Comments