"Penny and Red" to have California Premiere on January 11th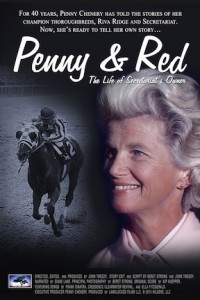 "Penny and Red: The life of Secretariat's owner" will have its California premiere on Saturday, January 11th at the Kirkorian Theatre in Monrovia, Ca.
For 40 years, Penny Chenery has told the stories of her two Kentucky Derby winning champion thoroughbreds, Riva Ridge and Secretariat. Now, she's ready to tell her own story…
The Secretariat Foundation and TROTT (Training Racehorses Off the Track) are pleased to invite you to attend the California premiere screening of her new documentary film, "Penny & Red: the Life of Secretariat's Owner" – the stunningly honest account of Penny's life produced and directed by John Tweedy's Landlocked Films and narrated by Diane Lane.
The screening will be held at the Krikorian Theatre in Monrovia on Saturday evening, January 11th with festivities beginning at 6:30 pm and the 60 minute film expected to start playing at 7:30 pm. There will be a Q & A session with the filmmakers following the screening. The optional Premium Admission invites ticketed guests to join director John Tweedy, jockey Laffit Pincay and other racing celebrities prior to the screening for a private VIP reception featuring cocktails and hearty hors d'oeuvres catered by the renowned Derby Restaurant.
Ticketing
a) General Admission Film Ticket – Includes admission to film and Q & A session – $40 per person.
b) Premium Admission Ticket – Includes reserved seating film admission and access to VIP reception – $95 per person.
c) Premium Deluxe Admission Ticket – Includes reserved seat film admission, access to VIP reception and a commorative DVD of the film autographed by Mrs. Chenery – $150 per person.
Advance Purchase Tickets are available thru Secretariat.com and you may also purchase tickets by phone by calling (949) 813-9566. Tickets will be available at the door while quantities last.
For many years, Penny Chenery would come have lunch with our Kentucky Derby Tours at Spindletop Hall in Lexington, Kentucky. You can view some of the photos on our website photo section. We enjoyed hearing her story and are so glad that now everyone can hear it! What a wonderful 'Grand Lady of horse racing'.
Tags: champion thoroughbreds, Derby Restaurant, Diane Lane, horse racing, January 11th, John Tweedy, Kentucky, Kentucky Derby Tours, Kirkorian Theatre, Laffit Pincay, Landlocked Films, Lexington, Penny and Red: The life of Secretariat's owner, premiere, racing celebrities, Riva Ridge, Saturday, Secretariat, Secretariat Foundation, Spindletop Hall, Training Racehorses Off the Track
Comments