24th Annual TCA 2014 Stallion Season Auction set for this week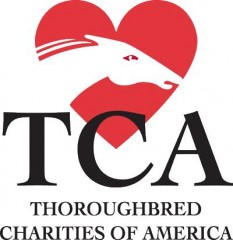 The 24th annual Thoroughbred Charities of America (TCA) Stallion Season Auction will be held Thursday, January 2 – Saturday, January 4 and will offer a wide variety of seasons, trips, tickets, unique experiences and other auction items. The three-day fundraiser consists of a telephone and online auction that culminates with a live Select Stallion Season Auction on January 4 at 6:30 p.m. at the Keeneland Entertainment Center in Lexington, Ky.
The majority of TCA's seasons will be offered and sold during the telephone and online auction. Online bidding will open at 9 a.m. on January 2 and continue through 10 a.m. (EST) on Saturday, January 4. Telephone bids will be accepted January 2-3, 9 a.m.-5 p.m. and January 4, 9 a.m.–10 a.m. (EST). Approximately 200 seasons representing stallions in 12 states and Canada are available in the auction. A link to the list of seasons and bidder registration is available by visiting www.tca.org.
Seventeen seasons and all non-season items will be sold in the live Select Season Auction on Saturday, January 4. Bidders or their authorized agents may bid on the select seasons by attending the live auction in-person or they may bid on the select seasons during the online and telephone phase with the highest bidders earning the right to bid by phone during the live auction. For bidders that cannot attend the live auction but are interested in non-season items, absentee bidding is available.
The Select Season Auction will offer the following seasons:
Blame, Broken Vow*, Congrats, Distorted Humor, Elusive Quality, Into Mischief (lifetime breeding right), Justin Phillip*, Lonhro*, Macho Uno, Malibu Moon (live foal), Medaglia d'Oro*, More Than Ready, Pioneer of the Nile, Point of Entry, Smart Strike, Speightstown, and Tiznow
*indicates a free return to the stallion in 2015 should the mare not get in foal or not produce a live foal. Applicable only if the stallion is standing at the same farm in 2015.
All seasons will be sold on a no guarantee basis except Malibu Moon which will be sold on a live foal basis. Additionally, a lifetime breeding right to Into Mischief will be offered.
The following non-season items will be available for bidding in the live auction:
• African Safari – six days and six nights for two at the Zulu Nyala in South Africa
• Horsepower Sports Package – four tickets to the Indy 500, NASCAR Nationwide Series at the Kentucky Speedway and Breeders' Cup
• John Deere X304 Mower
• Tickets to the 2014 Triple Crown races
• Equine air transportation aboard a Tex Sutton aircraft
• American Music Awards tickets
• Tiffany & Co. shopping weekend in Beverly Hills – including hotel, air and $1,000 Tiffany gift card
• U.S. Open golf experience – including Trophy Club passes and accommodations
The Select Season Auction will also offer a silent auction and music by Shades of Grass. John and Debby Oxley and the Retired Racehorse Training Project will be honored with TCA's annual Leadership and Industry Service awards.
Stallion Season Auction sponsors include Brushwood Stable, Adena Springs Farm, Rosenberg Thoroughbred Consulting, PBI Bank, Lael Stable, Candyland Farm, John Deere, Bourbon Lane Stable, Starquine.com, Provations Group, Fasig-Tipton, Keeneland, L.V. Harkness & Company and Blood-Horse Publications.
Tags: • Tiffany & Co., 24th annual Thoroughbred Charities of America, Adena Springs Farm, African Safari, American Music Awards tickets, Blame, Blood-Horse Publications, Bourbon Lane Stable, Breeders' Cup, Broken Vow, Brushwood Stable, CandyLand Farm, Congrats, Distorted Humor, Elusive Quality, Fasig-Tipton, Indy 500, Into Mischief, John and Debby Oxley, John Deere, John Deere X304 Mower, Justin Phillip, Keeneland, KY, L.V. Harkness & Company, Lael Stable, Lexington, Lonhro, Macho Uno, Malibu Moon, Medaglia d'Oro, More Than Ready, NASCAR Nationwide Series at the Kentucky Speedway, online auction, PBI Bank, Pioneer of the Nile, Point of Entry, Provations Group, Rosenberg Thoroughbred Consulting, Shades of Grass, Smart Strike, South Africa, Speightstown, Stallion Season Auction, Starquine.com, TCA, Tiffany gift card, Tiznow, Triple Crown, U.S. Open golf experience, Zulu Nyala
Comments