Pool 2 of 2014 Kentucky Derby Future Wager to start Saturday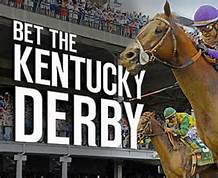 With less than 90 days before the 140th running of the Kentucky Derby, Churchill Downs oddsmaker Mike Battaglia ranks Cairo Prince, unbeaten champion Shared Belief and Honor Code as the most attractive individual horses in horse racing featured in this week's second pool of the 2014 Kentucky Derby Future Wager. The Pool 2 runs Feb. 6-8.
Battaglia has installed "All Others" as the 7-5 morning line favorite over the 23 individual horses on the roster of wagering interests for KDFW Pool 2. The pool will offer $2 minimum win wagering on all interests, along with exacta betting.
Wagering on KDFW Pool 2 will begin Thursday, Feb. 6 at noon (all times Eastern) and is scheduled to close on Saturday, Feb. 8 at 6 p.m. or prior to the post time for the $200,000 Robert B. Lewis (GII) at Santa Anita, whichever comes first. The Robert B. Lewis is Saturday's stop on the "Road to the Kentucky Derby" Prep Season schedule.
The 2014 Kentucky Derby Future Wager provides fans with the opportunity to wager on contenders for America's greatest race well in advance of the race at odds the could be much more attractive than those available on the day of the race.
Along with Cairo Prince, Shared Belief and Honor Code, major returnees from November's opening Pool 1 include Grade I winners Strong Mandate, winner of the Hopeful and a 27-1 shot in Pool 1 for four-time Kentucky Derby winner D. Wayne Lukas, and Champagne winner Havana, a 26-1 risk in the opening pool and one of four Pool 2 individuals trained by six-time Eclipse Award winner Todd Pletcher.
Pool 2 of the Kentucky Derby Future Wager features 14 individual wagering interests that were not a part of November's opening Pool 1. The new interests are California Chrome, Candy Boy, Conquest Titan, Indianapolis, Intense Holiday, Kristo, Matterhorn, Midnight Hawk, Samraat, Tapiture, Tonalist, Top Billing, Uncle Sigh and Vicar's in Trouble.
Pool 1 horses not featured in Pool 2 (with final Pool 1 odds) are Almost Famous (30-1), Bond Holder (40-1), Cleburne (62-1), Coup de Grace (48-1), Financial Mogul (99-1), In Trouble (53-1), Kobe's Back (84-1), Mexikoma (40-1), Misconnect (43-1), New Year's Day, Pablo Del Monte (59-1), Ride on Curlin (57-1), Tamarando (42-1) and Tap It Rich (25-1).
Wagering interests for the Kentucky Derby Future Wager pool were selected by a panel consisting of veteran turf writer Gary West; Daily Racing Form West Coast Correspondent and HRTV analyst Brad Free, Brisnet Director of Marketing Ed DeRosa, and Churchill Downs' John Asher.
Tags: 140th running of the Kentucky Derby, 2014 Kentucky Derby Future Wager, Almost Famous, Bond Holder, Brad Free, Cairo Prince, California Chrome, Candy Boy, Churchill Downs, Cleburne, Conquest Titan, Coup de Grace, Daily Racing Form, Eclipse Award winner, Ed DeRosa, Financial Mogul, Gary West, Havana, Honor Code, horse racing, HRTV, In Trouble, Indianapolis, Intense Holiday, John Asher, Kentucky derby prep, Kobe's Back, Kristo, Matterhorn, Mexikoma, Midnight Hawk, Mike Battaglia, Misconnect, New Year's Day, Pablo Del Monte, Ride on Curlin, Samraat, Shared Belief, Strong Mandate, Tamarando, Tap It Rich, Tapiture, Todd Pletcher, Tonalist, Top Billing, Uncle Sigh, Vicar's In Trouble
Comments