Racing Hall of Fame jockeys to be assembled at Keeneland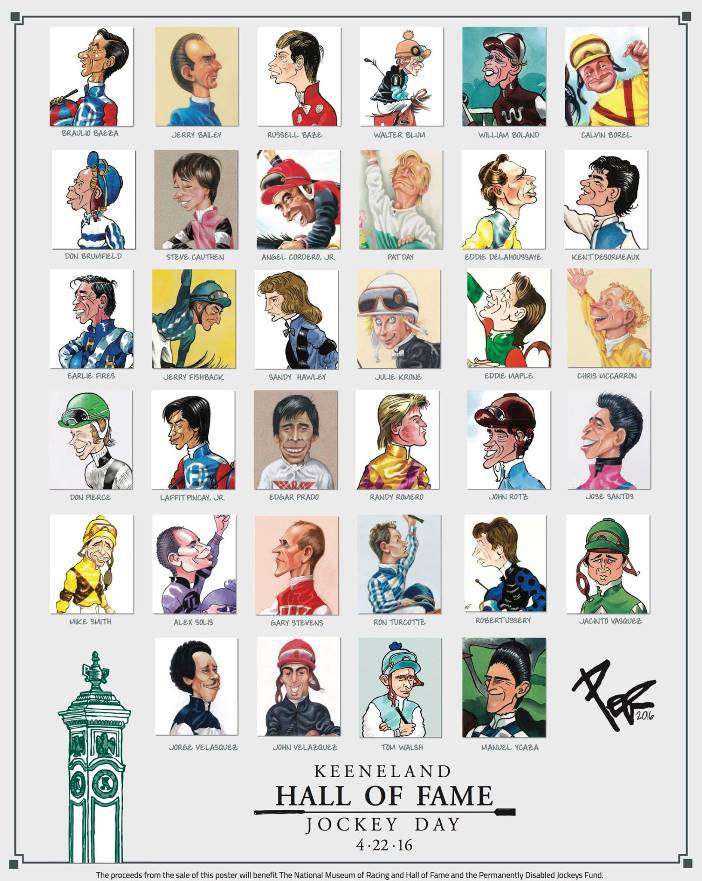 On Friday, Keeneland will honor one of the largest contingents of Racing Hall of Fame jockeys ever assembled. Fans are invited to help celebrate these riding legends during a day filled with recognition, highlighted by an autograph signing from 2-3 p.m. on the North Terrace.
Among the jockeys scheduled to appear are Keeneland's all-time leading rider, Pat Day, winner of the 1992 Kentucky Derby (G1) with Lil E. Tee; 1978 Triple Crown winner Steve Cauthen; Don Brumfield, who holds 16 Keeneland riding titles and won the 1966 Kentucky Derby and Preakness with Kauai King; three-time Derby winner Gary Stevens (Winning Colors in 1988, Thunder Gulch in 1995 and Silver Charm in 1997); three-time Derby winner and recently retired Calvin Borel (Street Sense in 2007, Mine That Bird in 2009 and Super Saver in 2010); two-time Derby winner Chris McCarron, (Go For Gin in 1994 and Alysheba in 1987); two-time Derby winner Jacinto Vasquez (Foolish Pleasure in 1975 and Genuine Risk in 1980); Laffit Pincay Jr., aboard Derby winner Swale in 1984; and Randy Romero, one of only three jockeys to win six races in one day at Keeneland.
Riders will talk about their accomplished careers during a Q&A session in the Keeneland Walking Ring that begins at 12:05 p.m.
Fans can meet the jockeys during an autograph signing from 2-3 p.m. in the North Terrace.
Jockeys will sign a commemorative poster featuring works by renowned racing artist Peb that can be acquired with a suggested donation of $15 per poster. Proceeds from the signing will benefit the National Museum of Racing and Hall of Fame in Saratoga Springs, N.Y., and the Permanently Disabled Jockeys Fund. Press release.
When we saw the poster we were excited. So many amazing jockeys and a few Derby memories came to mind immediately. Kentucky Derby Tours was so honored to have Bill Boland who won the 1950 Kentucky Derby, Jorge Velasquez who won the 1981 Kentucky Derby and Braulio Baeza who won the 1963 Kentucky Derby participate in our week long tour over they years when we helped honor them at the Galt House Hotel and Suites 'Gallop to Glory' exhibit. We also noticed Mike Smith on the poster who stopped by our lunch last year in Kentucky to say hi!
Tags: Affirmed, Alysheba, autograph signing, Bill Boland, Braulio Baeza, Calvin Borel, Chris McCarron, Don Brumfield, Foolish Pleasure, Gallop to Glory, Galt House Hotel, Gary Stevens, Genuine Risk, Go For Gin, Jacinto Vasquez, jockeys, Jorge Velasquez, Keeneland, Kentucky Derby, Kentucky Derby Tours, Laffit Pincay Jr, Lil E. Tee, Mike Smith, Mine That Bird, National Museum of Racing, Pat Day, Peb, Permanently Disabled Jockeys Fund, Racing Hall of Fame, Randy Romero, Silver Charm, Steve Cauthen, Street Sense, Super Saver, Swale, Thunder Gulch, Winning Colors
Comments