Official Kentucky Derby Party to Benefit the Unbridled Eve Foundation and Affiliated Charities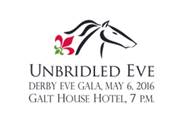 Named an Official Kentucky Derby Event, the Fifth Annual Unbridled Eve Gala is an exclusive star-studded gala which draws local and national business leaders, horse racing industry professionals and celebrities from film, television, music, comedy and sports.
From the world class cocktail reception, to dinner, dancing, live musical performances, and a spectacular silent auction, Unbridled Eve offers the best in Southern hospitality, elegance and entertainment.
All of this fun ultimately goes to help numerous great causes, including five year beneficiary, Blessings in a Backpack, an organization that fights childhood hunger by providing needy elementary school students a backpack of food on the weekends. A portion of proceeds will also go to fourteen other non-profit organizations.
The Unbridled Charitable Foundation, Inc® and Unbridled Eve® were founded by Tonya York Dees and Tammy York Day.
The evening will include performances by Robin Thicke (Grammy-nominated singer/songwriter), Wynonna Judd (Grammy-nominated singer), John Elefante (former lead singer of band Kansas), and Dennis DeYoung (founder and former lead singer of band Styx).
Celebrities/ VIPO scheduled to attend include: Ashley Greene (Twilight), Betty Cantrell (Miss America), Bob Guiney (Actor, Singer, Talk Show Host), Curtis Jackson "50 Cent" (Rapper/Entertainer), Diego Klattenhoff (Actor, NBC's "The Blacklist"), Junior Bridgeman (CEO of Manna, Inc. and former NBA player), Mark Sanchez (Denver Broncos Quarterback), Mike Mills (Founder and Bass Player of REM), Mira Sorvino (Oscar winning Actress), Sam Boyd (FMX Rider), Von Miller (SuperBowl MVP 2016 Denver Broncos), Warren Moon (Hall of Fame NFL Player), and Zach Lindsey (Project Runway: Junior Winner).
WHERE: The Galt House Hotel & Suites, Grand Ballroom, 140 N 4th St., Louisville, KY 40202. To purchase tickets, please visit www.unbridledeve.com and click on "Purchase Unbridled Eve Tickets," call 502.894.9768 or email [email protected] Individual ticket prices start at $850.
For the fifth consecutive year, the primary beneficiary of the Unbridled Eve Gala is Blessings in a Backpack, a 501 C (3) non-profit organization that currently feeds nearly 76,000 children in 800 schools in 44 U.S. states. The unique program feeds a child in the program for an entire year for only $100, providing support for elementary school children whose families qualify for the Federal Free and Reduced Price Meal program and who have minimal food on weekends.
The top level "Champion" sponsors of the fifth annual Unbridled Eve Gala are Southern Wine & Spirits and Delta Dental of Kentucky. Other sponsors include Barry Wooley Designs, Churchill Downs, Century Mortgage, Cigna, Ronaldo Jewelers, Signature Healthcare, Wayne and Kathy Richards, Sun Tan City/Planet Fitness, The Nora Roberts Foundation and Papa John's International.
The above is a press release.
PS Since Unbridled Eve started, many Kentucky Derby Tours members have gone and had a wonderful time!
Tags: 50 Cent, Ashley Greene, Barry Wooley Designs, Betty Cantrell, Blessings in a Backpack, Bob Guiney, celebrities, Century Mortgage, Churchill Downs, Cigna, Curtis Jackson, Delta Dental of Kentucky, Dennis DeYoung, Diego Klattenhoff, Galt House Hotel & Suites, horse racing industry professionals, John Elefante, Junior Bridgeman, Kansas, Kentucky Derby Event, Kentucky Derby Tours, KY, Louisville, Mark Sanchez, Mike Mills, Mira Sorvino, Papa John's International, Robin Thicke, Ronaldo Jewelers, Sam Boyd, Signature Healthcare, Southern hospitality, Southern Wine & Spirits, Styx, Sun Tan City/Planet Fitness, The Nora Roberts Foundation, Unbridled Eve Foundation, Unbridled Eve Gala, Von Miller, Warren Moon, Wayne and Kathy Richards, Wynonna Judd, Zach Lindsey
Comments