Road to the Kentucky Derby Points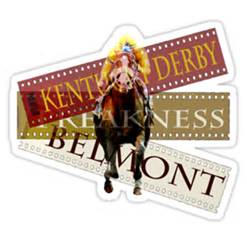 The Road to the Kentucky Derby is a 34-race series that awards points to the Top 4 horses in each race. The Top 20 point earners will earn a spot in the starting gate for the 142nd running of the $2 million Kentucky Derby on Saturday, May 7, 2016. The Kentucky Derby field has been limited to 20 starters since 1975. At least 20 horses have entered the 1 ¼-mile race for 3 year olds every year since 2004, and 15 of the last 17 years.
Who knows? Will one of these horses be like the last two horses to win the Kentucky Derby and go on to be Horse of the Year? Can one of these horses win the Kentucky Derby, Preakness and a year later win the Dubai World Cup like California Chrome? Or can one of these horses win the Triple Crown and go on to win the Breeders' Cup Classic the same year like American Pharoah? Kentucky Derby Tour members have been lucky enough to see each of them win the Kentucky Derby.! Only time will tell but horse racing fans are ready for another wonder horse!
Rank Horse Points Owner(s) Trainer Non-Restricted Stakes Earnings
1. Gun Runner, 151, Winchell Thoroughbreds & Three Chimney Farms, Steve Asmussen $849,200
2. Lani, 100, Ms. Yoko Maeda, Mikio Matsunaga $1,300,119
3. Mohaymen, 70, Shadwell Stable, Kiaran McLaughlin $760,350
4. Destin, 51, Twin Creeks Racing Stables, Todd Pletcher $338,000
5. Cupid, 50, Michael Tabor & Mrs. John Magnier & Derek Smith, Bob Baffert $540,000
6. Danzing Candy, 50, Halo Farms & Jim Bashor & Diane Bashor, Cliff Sise Jr $240,000
7. Shagaf, 50, Shadwell Stable, Chad Brown $240,000
8. Mor Spirit, 44, Michael L. Petersen, Bob Baffert $416,800
9. Tom's Ready, 44, G M B Racing, Dallas Stewart, $270,670
10. (Filly) Polar River, 40, Valentin Bukhtoyarov & Evgeny Kappushev, Doug Watson $700,000
11. Mo Tom, 32, G M B Racing, Tom Amoss $328,326
12. Nyquist, 30, Reddam Racing, Doug O'Neill $1,700,000
13. Exaggerator, 26, Big Chief Racing, Keith Desormeaux $1,028,000
14. Whitmore, 24, Robert V. LaPenta & Harry T. Rosenblum & Southern Springs Stable, Ron Moquett $300,000
15. Sunny Ridge, 23, Dennis A. Drazin, Jason Servis $525,600
16. Laoban, 22, Southern Equine Stable & McCormick, Eric Guillot $92,000
(Not nominated to Triple Crown) Yu Change (Japan), 20, K. Aitetsu, Hideyuki Mori $377,583
17. Forevamo, 20, Brittlyn Stable Inc, Al Stall Jr. $230,000
18. Dazzling Gem, 20, Steve Landers Racing, Brad Cox $100,000
19. Zulu, 20, Michael Tabor & Mrs. John Magnier & Derek Smith, Todd Pletcher $79,200
20. Outwork, 20, Repole Stable, Todd Pletcher $70,000
21. Flexibility, 15, Klaravich Stables Inc & William H. Lawrence, Chad Brown $232,500
22. Brody's Cause, 14, Albaugh Family Stable, Dale Romans $500,000
23. Greenpointcrusader, 14, St. Elias Stable & MeB Racing Stables & Brooklyn Boyz Stables, Dominick Schettino $379,300
24. Swipe, 12, Big Chief Racing, Keith Desormeaux $597,130
25. Fellowship, 12, Jacks or Better Farm Inc, Stanley Gold $115,590
26. Adventist, 12, Treadway Racing Stable, Leah Gyarmati $65,000
27. Collected, 11, Speedway Stable, Bob Baffert $312,500
28. Airoforce, 10, John C. Oxley, Mark Casse $444,080
29. Suddenbreakingnews, 10, Samuel F. Henderson, Donnie Von Hemel $437,000
30. Cocked and Loaded, 10, Richard Ravin & Patricia's Hope, Larry Rivelli $280,840
31. Discreetness, 10, Xpress Thoroughbreds, William "Jinks" Fires $248,153
32. Frank Conversation, 10, Reddam Racing, Doug O'Neill $199,000
33. Riker, 10, Team Valor International & Gary Barber & Tucci Stables, Mark Casse $189,375
(Filly – Not nominated to Triple Crown) Vale Dori (Argentina) (4yo), 10, Sheikh Mohammed bin Khalifa Al Maktoum, Mike de Kock $188,752
34. Creator, 10, WinStar Farm, Steve Asmussen $90,000
35. Star Hill, 10, Calumet Farm, Rusty Arnold II $36,500
Tags: American Pharoah, Big Chief Racing, Bob Baffert, Breeders' Cup Classic, California Chrome, Chad Brown, Cliff Sise Jr, Cupid, Dallas Stewart, Danzing Candy, Derek Smith, Destin, Diane Bashor, Doug O'Neill, Doug Watson, Dubai World Cup, Evgeny Kappushev, Exaggerator, G M B Racing, Gun Runner, Halo Farms, Horse of the Year, horse racing, Jim Bashor, Keith Desormeaux, Kentucky Derby, Kentucky Derby Tour, Kiaran McLaughlin, Lani, Michael L. Petersen, Michael Tabor, Mikio Matsunaga, Mo Tom, Mohaymen, Mor Spirit, Mrs. John Magnier, Ms. Yoko Maeda, Nyquist, Polar River, Preakness, Reddam Racing, Shadwell Stable, Shagaf, Steve Asmussen, Three Chimney Farms, Todd Pletcher, Tom Amoss, Tom's Ready, Triple Crown, Twin Creeks Racing Stables, Valentin Bukhtoyarov, Winchell Thoroughbreds
Comments