Tampa Bay Downs has offered a $1 million bonus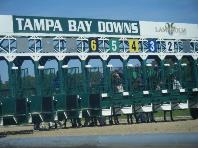 Tampa Bay Downs has offered a $1 million bonus to the owners of any horse which can win both the Sam F. Davis and Tampa Bay Derby and then go on and win the 2014 Kentucky Derby. Those involved in horse racing certainly sat up and took notice of this announcement by Tampa Bay Downs.
This triple win has never been accomplished, though two previous Tampa Bay Derby winners have gone on to win the Kentucky Derby. Super Saver did it in 2010 and Street Sense in 2007. This bonus should keep interest in the Florida Kentucky Derby prep races.
The track is also giving one fan the chance to win $100,000 in the bonus program. Immediately after the Sam F. Davis Stakes, the triumphant jockey will select the name of a fan who could strike it rich in the "Lambholm South $100,000 Fan Bonus," should the Davis winner capture the next two races. The fan's name shall be drawn from a bin among entrants who have correctly picked the Davis winner on the day of the race.
"Tampa Bay Downs is thrilled to offer a million-dollar bonus to the connections of any 3-year-old talented enough to sweep all three races," said general manager Peter Berube. "Nothing would make us happier than presenting $1 million to one of our owners and $100,000 to one of our loyal fans right after the Run for the Roses on the first Saturday in May."
In case of a Sam F. Davis dead heat, both winning ownership groups will be eligible for the "Tampa Bay Downs Million Dollar Derby Bonus," and the names of two individuals will be drawn to become eligible for the "Lambholm South $100,000 Fan Bonus."
Todd Pletcher, Carl Nafzger, and Nick Zito are a few of the trainers who in recent years have used the Tampa Bay Derby to prepare their leading 3-year-olds for a shot at immortality on the first Saturday in May at Churchill Downs in Louisville, Kentucky.
Only the Tampa Bay Derby is part of the Kentucky Derby Championship Series. The Tampa Bay Derby horses will be awarded 50 points to the winner, 20 to the runner-up, 10 for third place and 5 for fourth place. Points go toward determining which 20 3-year-olds are eligible for the Kentucky Derby.
"The Sam F. Davis and the Tampa Bay Derby both came into being in 1981, so it seems a natural fit to combine them for purposes of the bonus," Berube said. "There have been several years when the Tampa Bay Derby winner had not run in the Davis, but we hope the bonus makes both races, as well as our $100,000 Pasco Stakes on Jan. 4 for 3-year-olds, part of a logical progression on the road to Louisville."
Tags: $1 million bonus, 2014 Kentucky Derby, Carl Nafzger, Churchill Downs, first Saturday in May, jockey, Kentucky, Kentucky Derby Championship Series, Louisville, Million Dollar Derby Bonus, Nick Zito, Run for the Roses, Sam F. Davis, Street Sense, Super Saver, Tampa Bay Derby, Tampa Bay Downs, Todd Pletcher
Comments