The finalists for the 2018 Eclipse Awards will be revealed live on Saturday, Jan. 5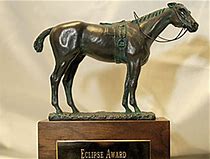 The National Thoroughbred Racing Association, National Turf Writers And Broadcasters, and Daily Racing Form announced Dec. 31 that finalists for the 2018 Eclipse Awards will be revealed live at 11:05 a.m., Saturday, Jan. 5 from Gulfstream Park (to view: http://gulfstreampark.com), all racetrack outlets carrying the Gulfstream Park simulcast feed, and on XBTV.com.
Finalists in 17 equine and human categories will be announced during a 30-minute program hosted by Gulfstream Park racing analysts Gabby Gaudet and Jason Blewitt.
The Eclipse Awards, honoring excellence in Thoroughbred racing, are voted upon by the NTRA, NTWAB, and Daily Racing Form.
Winners in all categories, including 2018 Horse of the Year, will be announced at the 48th annual Eclipse Awards, presented by Daily Racing Form, Breeders' Cup and The Stronach Group Thursday, Jan. 24 at
Gulfstream Park Racing and Casino in Hallandale Beach, Fla., two days prior to the $17 million Pegasus World Cup Invitational (G1) race card.
Eclipse Awards will also be bestowed upon Joe Harper, recipient of the Eclipse Award of Merit, and Horseplayer of the Year Chris Littlemore.
Eclipse Awards tickets are available for $425 each or $4,000 for a table of 10. Blocks of rooms have been reserved for Eclipse Awards guests at the J.W. Marriott (formerly Turnberry Isle Miami). Additional details can be found on the NTRA website at NTRA.com/eclipse-awards.
For additional information, please contact Casey Hamilton of the NTRA at [email protected].
New York Racing Association Press release
Comments