The greatest two minutes in sports will be even more lucrative in 2019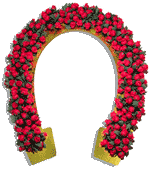 The greatest two minutes in sports will be even more lucrative in 2019.
Churchill Downs announced Jan. 10 that the guaranteed purse for the 145th Kentucky Derby Presented by Woodford Reserve (G1) has been increased to $3 million. The purse increase is the first for the Louisville classic since 2005, when it was increased from $1 million to $2 million.
Kentucky Derby guaranteed purse, since 1982
Years Purse
2019 $3 million
2005-2018 $2 million
1996-2004 $1 million
1991-1995 $500,000
1986-1990 $350,000
1982-1985 $250,000
The purse increase for the May 4 Kentucky Derby highlights a meet that will see many of the track's signature races offer more money in 2019. Track officials said the success of historical racing games added this year have helped make the increases possible.
The $1 million increase to the 1 1/4-mile Kentucky Derby for 3-year-olds highlights a record-setting, 34-race stakes schedule cumulatively worth $12.03 million for Churchill Downs' 2019 spring meet. Fifteen of the stakes races received significant purse hikes, including the Old Forester Turf Classic Stakes (G1T), Longines Kentucky Oaks (G1), and Humana Distaff Stakes (G1), and two new races were added to the historic Louisville racetrack's action-packed season, which will be run over 38 dates from April 27 to June 29.
With a race record $3 million in prize money now guaranteed for the Kentucky Derby, the winner will receive the event's highly sought-after gold trophy and a $1.86 million payday. Also, $600,000 will be awarded to the runner-up, $300,000 to third, $150,000 to fourth, and $90,000 to fifth. Pre-entry and entry fees have not changed, remaining at $25,000 each.
The Kentucky Derby purse was $1 million from 1996-2004.
The Derby is the first leg of the Triple Crown, followed by the Preakness Stakes (G1) at Pimlico Race Course and Belmont Stakes Presented by NYRA Bets (G1) at Belmont Park. Last year, the Preakness and Belmont each offered guaranteed purses of $1.5 million.
An edited Churchill Downs press release
Comments