Trainer Art Sherman is named 2014 Laffit Pincay, Jr. Award winner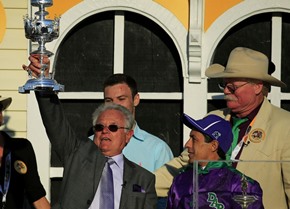 Art Sherman, a career race tracker who rose to the pinnacle of the sport this past spring when he guided the mercurial colt California Chrome to the edge of racing immortality in a thrilling Triple Crown run, has been named the 2014 recipient of the Laffit Pincay, Jr. Award.
It was announced in this press release that Sherman will receive the award and its distinctive trophy Sunday, July 27, in winner's circle ceremonies at Del Mar between the day's fourth and fifth races.
The Pincay Award, given annually for the past 10 years to those who have served the sport "with integrity, extraordinary dedication, determination and distinction," will be presented at Del Mar for the first time. Previously, the ceremonies were held at Hollywood Park, but when the Los Angeles track closed in 2013, Del Mar invited Hall of Fame rider Pincay to continue his tradition at its shore location.
Sherman, who came to the racetrack as a teenager and has spent his entire career either riding – which he did for 23 years – or training – which he has done for the past 35 — said he was honored and delighted to be receiving the award "from my old friend and one of my favorite riders.
"Laffit is a man of real class and it is an honor for me to be receiving an award named for him," Sherman said. "I am aware how prestigious this is and of the list of previous winners. To be in that kind of company makes this very special."
Pincay, who rode for 39 years and won a then world's record 9,530 races, earned five Eclipse Awards as America's top rider and led the nation in earnings on seven occasions. The now 67-year-old competed for 27 summers at Del Mar and is the track's winningest rider with 1,011 victories prior to his retirement in 2003.
"It is a pleasure for me to give this award to a man like Art Sherman," Pincay said. "It is well deserved; very well deserved. I've known Art for a long time and I know he's the kind of person people just like to be around. He's such an open and honest man and he handles himself so well. I think everyone saw that this spring. The way he dealt with all the things surrounding California Chrome – winning the Santa Anita Derby, the Kentucky Derby and the Preakness and all the pressure that came with that – just showed everyone that he is a wonderful representative for horse racing."
Sherman, 77, became the oldest trainer to win the Kentucky Derby when California Chrome raced to an electrifying length and three-quarters victory in the Run for the Roses. Subsequently, the handsome chestnut won the Preakness by a length and a half and had America abuzz with thoughts of the first Triple Crown winner in 36 years. Alas, he fell two lengths short in the Belmont Stakes, finishing in a dead-heat for fourth.
The complete list of Laffit Pincay, Jr. Award winners:
2013 – Eddie Delahoussaye
2012 – John Harris
2011 – Jerry and Ann Moss
2010 – Oak Tree Racing Association
2009 – Merlin Volzke
2008 – Pete Pedersen
2007 – Elwood W. "Bud" Johnston
2006 – Mel and Warren Stute
2005 – Noble Threewitt
2004 – Bob Benoit
Comments