Jockey Chris McCarron to retire from teaching full time at jockey school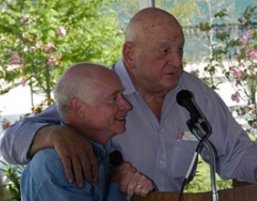 Hall of Fame jockey Chris McCarron will retire from his full-time teaching duties at the North American Racing Academy (NARA) at the end of 2014 fall semester according to a recent press release. McCarron joined the Kentucky Community and Technical College System (KCTCS) to launch NARA in 2006.
McCarron currently serves as Lead Instructor for Jockey Pathway students at NARA, which is now part of Bluegrass Community and Technical College. While McCarron will no longer teach full time, he will remain a part of the program he founded by teaching master classes in advanced riding each summer. Throughout the year, McCarron's successful methods of preparing professional exercise riders and jockeys will continue.
McCarron plans to remain a part of the program he founded by teaching master classes in advanced riding each summer.
McCarron's illustrious 28-year riding career ended in a victory, when in June 2002 he rode Came Home to a win in his last professional race. He was the sport's all-time money leader with 7,141 total wins, including two Kentucky Derby wins, six wins in Triple Crown races, two Eclipse Awards, nine Breeders' Cup victories and over $260 million in purse earnings.
Said McCarron: "Now that I'm almost 60, the time has come for me to pass the baton at NARA and move on to another chapter in my life. I greatly appreciate all the support I have received since spring 2004 when I first met with Dr. Michael McCall, President of KCTCS and his staff. Also, the incredible support I have received from BCTC President Augusta Julian and her team has been equally important to me over the years. Their faith in me and in my ideas was the catalyst that brought NARA to life and made it successful."
"I'll miss the students. So many have taken their studies very seriously and have gone on to apply what they learned at NARA to become successful race riders, grooms, trainers and just solid horsemen and horsewomen overall, which is what racing needs. Yes, I am retiring! But I do look forward to my new role as an adjunct riding instructor, mentor, and in assisting BCTC during this transition. It's been a wonderful ride!"
During the past two years, BCTC-NARA has successfully expanded its focus from training jockeys to becoming an overall equine industry workforce provider. More than 100 students are currently enrolled in the program, which features a jockey pathway and a horseman's pathway. Aspiring riders will continue "basic training" each spring (January-May) with riding and horsemanship fundamentals taught by the highly qualified faculty, who collectively have more than 60 years of experience in the riding and training of racehorses. Nationally prominent jockeys, both active and retired, will work with faculty for student assessments and tutoring.
Since 2006, BCTC-NARA students have achieved licensure and joined the equine industry workforce for careers in the care, training and riding of racehorses. Twenty graduates are currently active as professional jockeys and their mounts have earned nearly $40 million in purses at tracks across North America.
Comments