Triple Crown champion American Pharoah to receive Vox Populi Award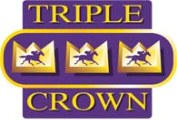 Triple Crown champion American Pharoah has been selected to receive the 2015 Secretariat Vox Populi, or "Voice of the People," Award. The award recognizes the horse whose popularity and racing excellence best resounded with the American public and gained recognition for Thoroughbred horse racing.
American Pharoah was the clear favorite among the voters in the Vox Populi online poll recording the largest margin of victory in the award's existence. The Zayat Stables colt was one of a select group of nominees submitted by the Vox Populi Committee and Mrs. Penny Chenery, owner of beloved Triple Crown champion Secretariat in whose name she established the award in 2010. In the honor's true spirit of celebrating fan favorites, several other popular horses received a groundswell of write-in support, including the former Vox Populi nominee and recently departed champion Shared Belief.
Mrs. Chenery will present the custom-made Vox Populi trophy to the American Pharaoh team on Jan. 9 at Santa Anita Park. In conjunction with the presentation, a special Vox Populi poster give-away and autograph signing will be offered to the public.
American Pharoah's victorious Triple Crown campaign was the first in 37 years and added his name to an elite list of only 11 other horses in history to win the Kentucky Derby, the Preakness and the Belmont Stakes. Then just a few months later, the 3-year-old champion thrilled both the record multitude at Keeneland Racecourse and the largest Breeders' Cup television audience in 20 years when he won the Breeders' Cup Classic by a commanding 6 1/2 lengths. Sports media have dubbed the sum of these four hallmark wins as Thoroughbred racing's first ever "Grand Slam."
"American Pharoah's 2015 racing campaign was a true gift to the fans inside and outside the sport who have been waiting so long for their next Triple Crown champion," said Mrs. Chenery. "In his efforts, we were able to once again witness greatness, and we were reminded that excellence can still be achieved. This racing hero has inspired a whole new generation of young fans, which I find most exciting for the future of the Thoroughbred racing. I congratulate American Pharoah's team on their amazing year, and I am delighted to present them with the Secretariat Vox Populi Award."
Jockey Victor Espinoza and trainer Bob Baffert guided American Pharoah during his history-making career, with earnings totaling almost $8.7 million and nine wins in 11 starts. American Pharoah has been retired and will stand at Kentucky's Ashford Stud.
Zayat Stables' Paynter received the Vox Populi Award in 2012, and American Pharoah joins other previous winners California Chrome (2014), Mucho Macho Man (2013), Rapid Redux (2011) and Zenyatta (inaugural 2010).
This announcement was made by press release.
Tags: 2015 Secretariat Vox Populi, American Pharoah, Ashford Stud, award, Belmont Stakes, Bob Baffert, Breeders' Cup, California Chrome, horse racing, Keeneland, Kentucky Derby, Mucho Macho Man, Penny Chenery, Preakness, Rapid Redux, Secretariat, thoroughbred, Triple Crown, Victor Espinoza, Zayat Stables, Zenyatta
Comments