2015 Eclipse Award Finalists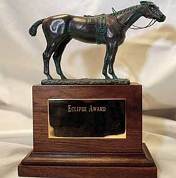 Led by Horse of the Year candidates American Pharoah, Beholder and Runhappy, the National Thoroughbred Racing Association (NTRA), Daily Racing Form and the National Turf Writers and Broadcasters (NTWAB) today announced the finalists for the 2015 Eclipse Awards, recognizing excellence in Thoroughbred horse racing. Winners in 17 horse and human categories will be announced at the 45th annual Eclipse Awards dinner and ceremony, presented by Daily Racing Form, Breeders' Cup and The Stronach Group on Saturday evening, January 16, at Gulfstream Park Racing & Casino in Hallandale Beach, Fla.
Of the 281 eligible voters representing the NTRA, the NTWAB and Daily Racing Form, 261 (92.88%) took part in this year's voting. Finalists were determined in each category by voters' top three selections, using a 10-5-1 point basis. Eclipse Award winners are determined solely by first place votes.
The 2015 Eclipse Awards finalists (in alphabetical order) are:
Horse of the Year: American Pharoah, Beholder, Runhappy
Two-Year-Old Male: Airoforce, Mohaymen, Nyquist
Two-Year-Old Filly: Catch a Glimpse, Rachel's Valentina, Songbird
Three-Year-Old Male: American Pharoah, Dortmund, Runhappy
Three-Year-Old Filly: Found (IRE), I'm a Chatterbox, Stellar Wind
Older Dirt Male: Honor Code, Liam's Map, Tonalist
Older Dirt Female: Beholder, Sheer Drama, Stopchargingmaria
Male Sprinter: Private Zone, Rock Fall, Runhappy
Female Sprinter: La Verdad, Lady Shipman, Wavell Avenue
Male Turf Horse: Big Blue Kitten, Golden Horn (GB), The Pizza Man
Female Turf Horse: Found (IRE), Stephanie's Kitten, Tepin
Steeplechase Horse: Bob Le Beau (IRE), Dawalan (FR), Demonstrative
Owner: Midwest Thoroughbreds, Inc., Kenneth and Sarah Ramsey, Zayat Stables
Breeder: Darley, Kenneth and Sarah Ramsey, Zayat Stables
Trainer: Bob Baffert, Chad Brown, Todd Pletcher
Jockey: Javier Castellano, Victor Espinoza, Irad Ortiz, Jr.
Apprentice Jockey: Eric Cancel, Angel Cruz, Tyler Gaffalione
In addition to honoring the 17 winners in the horse and human categories, owner, breeder and philanthropist Leonard Lavin of Glen Hill Farm will receive the Eclipse Award of Merit for a lifetime of achievement in the Thoroughbred industry. John O'Neil will receive an Eclipse Award as the 2015 Horseplayer of the Year. Members of the media will be honored for outstanding coverage in six categories.
The Eclipse Awards, which will be shown live on Xpressbet.com, are named after the great 18th-century racehorse and foundation sire Eclipse, who began racing at age five and was undefeated in 18 starts, including eight walkovers. Eclipse sired the winners of 344 races, including three Epsom Derbies. The Eclipse Awards are bestowed upon horses and individuals whose outstanding achievements in North America have earned them the title of Champion in their respective categories. Those awards are voted by NTRA, Daily Racing Form and the National Turf Writers and Broadcasters (NTWAB). Eclipse Awards also are given to recognize members of the media for outstanding coverage of Thoroughbred racing. Press Release.
Tags: 2015 Eclipse Awards, Airoforce, American Pharoah, Angel Cruz, Beholder, Big Blue Kitten, Bob Baffert, Bob Le Beau, breeder, Breeders' Cup, Catch a Glimpse, Chad Brown, Daily Racing Form, Darley, Dawalan, Demonstrative, Dortmund, Eclipse Awards, Eric Cancel, Found, Golden Horn, Gulfstream Park, Honor Code, horse, Horse of the Year, I'm a Chatterbox, Inc., Irad Ortiz Jr, Javier Castellano, Kenneth and Sarah Ramsey, La Verdad, Lady Shipman, Leonard Lavin, Liam's Map, Midwest Thoroughbreds, Mohaymen, National Thoroughbred Racing Association, National Turf Writers and Broadcasters, Nyquist, owner, Private Zone, Rachel's Valentina, Rock Fall, Runhappy, Sheer Drama, Songbird, Stellar Wind, Stephanie's Kitten, Stopchargingmaria, Tepin, The Pizza Man, The Stronach Group, thoroughbred horse racing, Todd Pletcher, Tonalist, Tyler Gaffalione, Victor Espinoza, Wavell Avenue, Zayat Stables
Comments