Unbridled Eve Gala rocked the night away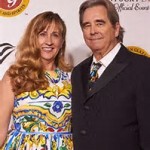 What do you do the night before the Kentucky Derby?
GO to the Unbridled Eve Gala!
Celebrities from film, television, music, comedy and sports, horse racing industry professionals, and local and national business leaders, gathered for the always highly anticipated sixth Annual Unbridled Eve Gala, an Official Kentucky Derby Event. Celebrities included: Beau Bridges, Mira Sorvino, Paul 0rvino, Christopher Backus, Beau Bridges, Wes Henderson, Victor Espinoza, Jean Cruguet, Mario Gutierrez, Mike Smith, Julien Leparoux, Bob Guiney, Bonnie-Jill Laflin, Robin Meade, Warren Moon, Conrad Bachmann, and Nora Roberts
From the world-class cocktail reception featuring 19 specialty cocktails to dinner, dancing, live musical performances, and a spectacular silent auction, Unbridled Eve truly offers the best in Southern hospitality, elegance and entertainment.
American country artist, Grammy-Award nominee, and former contestant on The Voice, Billy Gilman kicked off the musical performances for the evening followed by all-female country group Farewell Angelina, which features four powerhouse vocalists, dynamic songwriters and multi-instrumentalists.
Next to take the stage was former "Kansas" lead singer, John Elefante who sang classic hits such as Point of "No Return," "Dust in the Wind," "Cold as Ice," and "Wayward Son." Wally Palmar, lead singer of The Romantics followed Elefante's lead kicking off his set with "Talking in Your Sleep," "Rock You Up," and "What I Like About You."
Guests packed the dance floor as three-time Billboard Award winner, Taio Cruz performed his hits, "Dynamite" and "Break Your Heart" followed by a set of throwbacks from headliner Morris Day & The Time including the hit "Jungle Love."
To close the night, Unbridled Eve regulars Robin Meade, Bob Guiney, JD Shelburne, John Elefante, Wally Palmar, and Farewell Angelina took the stage for an all-star jam.
Since its inception in 2012, the Unbridled Charitable Foundation, Inc. has supported 31 charities with $1,626,108 in both direct proceeds from the Unbridled Eve Derby Gala and additional funding received due to exposure gained in conjunction with the Unbridled Eve Derby Gala. The Unbridled Charitable Foundation, Inc® and Unbridled Eve® were founded by Tonya York Dees and Tammy York Day.
The two primary beneficiaries for tonight's Unbridled Eve Gala are Blessings in a Backpack and Fund for the Arts, both 501(c)(3) non-profit organizations. Additionally, the Animal Care Society, APRON, Inc., Down Syndrome of Louisville, Jefferson Community and Technical College Student Emergency Fund, Kentucky Natural Lands Trust,Kentucky State Police Trooper Island Camp, Louisville Dental Society Mobile Dental Van, Metro United Way,Miracle League of Louisville, Inc., Operation Homefront, SOS International dba Supplies Over Seas, Super Student Athletes, USA Cares, WESTEC (The Blue House) and Winter HAYven will benefit.
Triple Crown Sponsors of the 2017 Unbridled Eve Derby Gala are Delta Dental of Kentucky and Southern Glazer's Wine & Spirits. Other sponsors include Cigna, Meijer, Churchill Downs, Inc., Galt House Hotel, Nora Roberts Foundation, Red 7e, Ronaldo Designer Jewelry, Inc., Wayne and Kathy Richards, YPO Dallas, Sun Tan City, Planet Fitness, and Barry Wooley Designs. Media partners include: The Voice, Today's Woman, Louisville Magazine, 102.3 The Max, 99.7 WDJX, and Louisville.com.
An edited press release
Tags: 102.3 The Max, 99.7 WDJX, Animal Care Society, APRON, Barry Wooley Designs, Beau Bridges, Billy Gilman, Blessings in a Backpack, Bob Guiney, Bonnie-Jill Laflin, Christopher Backus, Churchill Downs, Cigna, Conrad Bachmann, Delta Dental of Kentucky, Down Syndrome of Louisville, Fund for the Arts, Galt House Hotel, horse racing, Inc., Jean Cruguet, Jefferson Community and Technical College Student Emergency Fund, John Elefante, Julien Leparoux, Kentucky Derby Event, Kentucky Natural Lands Trust, Kentucky State Police Trooper Island Camp, Louisville Dental Society Mobile Dental Van, Louisville Magazine, Louisville.com, Mario Gutierrez, Meijer, Metro United Way, Mike Smith, Mira Sorvino, Miracle League of Louisville, Morris Day & The Time, Nora Roberts, Nora Roberts Foundation, Operation Homefront, Paul 0rvino, Planet Fitness, Red 7e, Robin Meade, Ronaldo Designer Jewelry, SOS International dba Supplies Over Seas, Southern Glazer's Wine & Spirits, Sun Tan City, Super Student Athletes, Taio Cruz, The Voice, Today's Woman, Unbridled Eve Gala, USA Cares, Victor Espinoza, Warren Moon, Wayne and Kathy Richards, Wes Henderson, WESTEC, Winter HAYven, YPO Dallas
Comments