R.A.C.E. racehorse retirement and rescue fundraiser starts May 26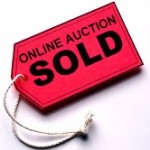 The R.A.C.E. Fund, a 501 C 3 non-profit organization established in 2004 and TAA accredited, launches its 2017 fund drive with an online auction on eBay starting May 26th at 8:00 PM (EST) and ending on June 2nd to help raise funds for racehorse retirement and rescue.
Featured items include: halters of the following Multiple Graded Stake winning champions, 2016 Eclipse Award Horse of the Year, California Chrome, 2003 Kentucky Derby and Preakness Winner, Funny Cide, 2004 Kentucky Derby and Preakness winner Smarty Jones, Whitney Stakes winner, Frosted, 2009-2010 Eclipse Award Champion Grass Horse, Gio Ponti, Multiple Graded Stakes and Hall of Famer, Serena's Song, Multiple Graded Stakes Winner and a Leading Freshman sire, Creative Cause, Graded Stakes Winner, 2012 Arkansas Derby Winner and sire of Kentucky Derby winner Always Dreaming , Bodemeister, Multiple Graded Stakes Winner and 2012 and 2013 Eclipse Award Champion Female Sprinter, Groupie Doll, Multiple Graded Stakes Winner and 2014 Belmont Stakes Winner, Tonalist. Horseshoes worn by Multiple Graded Stakes Winners First Samurai, Tapizar and Karakontie were provided by Claiborne Farm and Gainesway respectively. And collectible first and second edition Secretariat Bobbleheads.
Other items to be auctioned are autographed pictures by Hall of Fame jockey Calvin Borel of his 2007 Kentucky Derby victory on Street Sense and Rachel Alexandra when she won the 2011 Woodward Stakes, and a signed picture by jockey Mike Smith winning the 2016 Breeders Cup Classic on Arrogate donated by Gallery of Champions and more.
"We have some very exciting auction items again this year. We would like to especially thank volunteer Roxanne Campbell for her tireless efforts as well as Calvin Borel, Airdrie Stud, Inc. Mrs. Pat Chapman and Calumet, Castleton Lyons, Claiborne, Darley, Denali Stud, Gainesway, Lanes End, Taylor Made, Timber Town Stables and WinStar for their generous support by donating such valuable items of racing champions to help us raise funds," stated Marlene Murray, President of the R.A.C.E. Fund.
All proceeds raised will be used to help thoroughbred racehorses in need of retirement and rescue from slaughter.
Tags: Airdrie Stud, Bodemeister, Breeders' Cup Classic, California Chrome, Calumet, Calvin Borel, Castleton Lyons, Claiborne, Creative Cause, Darley, Denali Stud, eBay, Eclipse Award, Frosted, Funny Cide, Gainesway, Gio Ponti, halters, jockey, Lane's End, Mike Smith, Mrs. Pat Chapman, online auction, R.A.C.E. Fund, racehorse retirement, Rachel Alexandra, rescue, Secretariat Bobbleheads, Serena's Song, Smarty Jones, Taylor Made, Timber Town Stables, Tonalist, WinStar
Comments