2014 Preakness Stakes has only 10 contenders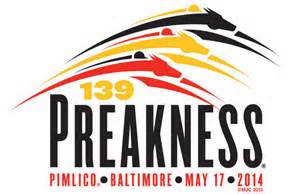 On Wednesday, the Post positions were drawn for the 139th Preakness Stakes at Pimlico Race Course. There are only 10 horses in the field. NBC television will have a telecast from 4:30 to 6:30 PM (Eastern Time). Here is the field:
Post, Horse, Trainer, Jockey, M/L Odds
1 Dynamic Impact, Mark Casse, Miguel Mena 12-1
2 General A Rod, Michael Maker, Javier Castellano 15-1
3 California Chrome, Art Sherman, Victor Espinoza 3-5
4 Ring Weekend, Graham Motion, Alan Garcia 20-1
5 Bayern, Bob Baffert, Rosie Napravnik 10-1
6 Ria Antonia, Tom Amoss, Calvin Borel 30-1
7 Kid Cruz, Linda Rice, Julian Pimentel 20-1
8 Social Inclusion, Manny Azpurua, Luis Contreras 5-1
9 Pablo Del Monte, Wesley Ward, Jeffrey Sanchez 20-1
10 Ride On Curlin, Billy Gowan, Joel Rosario 10-1
Many of the trainers talked about their post position draws:
Art Sherman, California Chrome's trainer said, " 3 might actually be an advantage for me. They have all the speed on the outside. If I was riding the race, I'd say, 'Well, I've got to get a clean break. See where they're going out of the gate. It gives me an idea of who will be sending, and they will be sending; get into that first turn with a good position and then down the backside, pick my spot where I want to be.' My horse is kind of push-button. People don't know that he's got enough lick that he can stay with any horse in the race. He likes a target to run at and I know that Victor is going to ride him well." California Chrome won the 2014 Kentucky Derby.
Ron Sanchez,who is the owner of second choice Social Inclusion said, "The first time I heard 8, I was a little concerned. But not now, with Ria Antonia and Kid Cruz inside with less speed and with two speed horses outside, that'll help us. We'll be in good position in the early stages. I didn't like being on the outside in the Wood, but the Pimlico front stretch is a little bit longer. My horse is more experienced now and he is multi-faceted. He has speed and strength. Everyone is impressed with California Chrome. I think he'll run a good race, but this is a better field. Every owner here thinks they can beat California Chrome, but obviously the oddsmaker didn't think so."
Kaleem Shah is the owner of #5 Bayern and said, "The post position is fine. He just has to run his race. We know that California Chrome is the horse to beat. We'll see what happens."
Billy Gowan is the trainer of Ride On Curlin and said, "It's OK; I'm an outsider anyhow. I don't think it's bad here. With the kind of pace we have in the field, I think it's fine. When I got the 19 in the Derby, I wasn't too pleased with it, but what are you gonna do?"
Rio Antonia is the only filly in the race. She is ridden by Calvin Borel who won the Preakness Stakes with filly Rachel Alexandria.
The Preakness Stakes is the second leg of the Triple Crown.
Tags: 139th Preakness Stakes, 2014 Kentucky Derby, Alan Garcia, Art Sherman, Bayern, Billy Gowan, Bob Baffert, California Chrome, Calvin Borel, Dynamic Impact, General a Rod, Graham Motion, Javier Castellano, Jeffrey Sanchez, jockey, Joel Rosario, Julian Pimentel, Kid Cruz, Linda Rice, Luis Contreras, Manny Azpurua, Mark Casse, Michael Maker, Miguel Mena, NBC, Pablo Del Monte, Pimlico Race Course, Post position, Rachel Alexandria, Ria Antonia, Ride on Curlin, Ring Weekend, Rosie Napravnik, Social Inclusion, Tom Amoss, trainer, Triple Crown, Victor Espinoza, Wesley Ward
Comments