California Chrome OK to use nasal strip in Belmont Stakes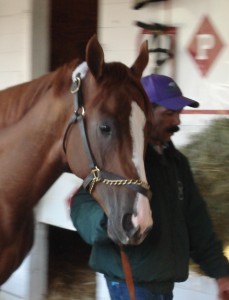 Three stewards at Belmont Park on Monday unanimously approved the nasal strips for all horses running at racetracks of the New York Racing Association, effective immediately. So this means that California Chrome will be allowed to wear a nasal strip at the Belmont Stakes on June 7, keeping alive his chance to become the first Triple Crown winner in 36 years. This ruling also covers all horses racing in NYRA tracks.
The Stewards immediately sought expert analysis from New York State Gaming Commission Equine Medical Director Scott E. Palmer, VMD, prior to their ruling on usage of the nasal strips.
Dr. Palmer wrote:
"I recommend that the stewards at State-based Thoroughbred racetracks discontinue their ban on equine nasal strips. Equine nasal strips do not enhance equine performance nor do they pose a risk to equine health or safety and as such do not need to be regulated.
While there is research to indicate that equine nasal strips decrease airway resistance in horses and may decrease the amount of bleeding associated with EIPH to some degree, I am unfamiliar with any research indicating that equine nasal strips enable a horse to run faster with nasal strips than without them. In other words, there is no evidence they have a performance enhancing effect. Equine nasal strips do not pose a welfare or safety risk to the horse or horse racing. They are applied to the top of the nose and anyone can see their use prior to a race. If improperly applied, equine nasal strips cannot interfere with performance. In my opinion equine nasal strips fall into the same category as tongue-ties."
The Stewards considered Dr. Palmer's advice and thus determined to specifically approve the unregulated use of the nasal strips pursuant to N.Y.S. Gaming Commission Rule 4033.8. That rule provides, "Only equipment specifically approved by the stewards shall be worn or carried by a jockey or a horse in a race."
A day earlier, California Chrome trainer Art Sherman, said that if the horse wasn't allowed to run with a nasal strip – designed to enhance air flow in the nasal passages — his owners might not want to run him at all in the Belmont, never mind the hugeness of the race for the horse and the racing industry.
Alan Sherman, son and assistant trainer of California Chrome said "We put in an official request (Sunday to New York officials) to get the nasal strip, and it looks like we're going to be able to use it".
"It's looking that way, but we'll see when I get up there." He was with the horse just two days after his Preakness Stakes win at his Pimlico barn.
Sherman said the plan is for California Chrome to leave here by van at 6 a.m. Tuesday for the trip to New York.
California Chrome is 6-0 since he started wearing the nasal strips in races only, not for training. "It just opens up their nasal passage a little bit, but like the human ones (nasal strips)."
Comments