2014 Secretariat Festival will be held on September 19-20 in Paris, KY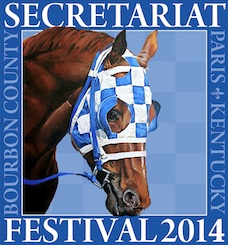 September 19-20 marks the dates for the 2014 renewal of the Secretariat Bourbon County Festival.
The third weekend in September lends a picture-perfect autumn backdrop to the 7th Annual Bourbon County Secretariat Festival in historic Paris, Kentucky, honoring Central Kentucky's most famous equine resident. The Secretariat Festival showcases the 1973 Triple Crown Winner as well as the Commonwealth's pride in its Bluegrass heritage.
Since its inaugural event in 2008, the Festival has grown in attendance, activities, and performances, which now encompass two days of scheduled events attracting horse fans and families of all ages. Big Red fans travel from across the country far and wide to experience the legend and legacy of Secretariat and visit Claiborne Farm. The historic thoroughbred operation where Big Red spent the majority of his life and is now buried in his hallowed grave graciously opens its doors throughout the day to Festival-goers for scheduled tours of the renowned farm.
Visitors enjoying the Festival's main activities at the Bourbon County Fairgrounds can expect a constant buzz of excitement and entertainment throughout the day – displaying the talents of both human and horse. Three arenas allow for festival goers to enjoy various equestrian demonstrations and disciplines, parading of former equine athletes and star retirees, and many more equine-related events.
The celebrity appearance and signing session has become a Festival marquee event and the dream destination for autograph seekers of all ages. Each year, original members of the Meadow Stable racing team headline the list of celebrity guests expected to attend the grand gathering. In addition, thoroughbred horse racing enthusiasts will delight in the opportunity to meet more of the greatest jockeys and heroes in the sport who happily share memories and horse racing experiences with each and every fan.
The Festival's many diverse vendors feature a wide variety of artists and retailers who bring an assortment of all things Secretariat and other equine and Kentucky themed products to the gathering. Other favorite staples of the Festival include the Paris ArtWalk, silent auction of racing memorabilia from the Secretariat archive collection, live bluegrass entertainment, sampling of Kentucky cuisine, and an array of children's activities.
The Bourbon County Secretariat Festival has it ALL and will continue to grow and share the region's proud cultural heritage as an annual fixture on the Kentucky event calendar. Make you plans now!
Accommodations: A diverse selection of hotels can be found in Lexington with fewer choices as you exit I-75/64 north to Paris.
Comments