A Summer vacation for California Chrome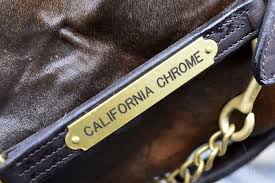 If you drive down Interstate 5 through the Central Valley around the Fresno area this summer, you can't help but think about Kentucky Derby and Preakness winner California Chrome. There is already a large sign you can see off Interstate 5 proclaiming that Harris Ranch/Farm as the home of California Chrome.
Harris Ranch is a midway point between Los Angeles and San Francisco. Most of my friends always stop at Harris Ranch for lunch and buying steaks to bring home. But now there is another reason to stop there. California Chrome arrived at Harris Farm on Wednesday.
California Chrome is now enjoying a 6 week summer vacation at his birthplace – Harris Farms in California. He expects to be there until he returns in August to trainer Art Sherman.
California Chrome arrived at Harris Farm on Wednesday. It was less than 16 months ago that he left the Farm to train with Art and Alan Sherman. How things have changed. Chrome is now a fan favorite and a winner of two classic races.
Even before Chrome's June 7 Belmont Stakes race, Sherman and the owners had a brief holiday like this in mind for him.
Alan Sherman made the trip with Chrome. "I'm sure I'll be up here looking in on him more than a few times," the younger Sherman promised.
"He's grown up quite a bit since we last had him here, but he looks great," said General manager of Harris Farm Dave McGlothlin.
"At first, he'll be hand-walked a couple of times a day," McGlothlin said Thursday. "We took him out into one of the stallion paddocks this morning and let him graze on the shank for a few minutes before putting him back in his stall. We'll do it again this afternoon and then every day for the next week or so. When it looks like he is finally relaxed enough and not overly concerned about the activity or lack of activity going on around him, then we'll move him out to a paddock where he can be out most of the day."
"You always hesitate a little turning them out like that," Art Sherman said. "A trainer never likes to lose sight of his horse for very long, but that's just trainers, I guess. There's always a chance something could happen at the farm, though."
So now California Chrome will be a regular horse, well I am sure they will keep in mind that he is a Kentucky Derby winner!
Comments