2015 Travers Stakes post positions set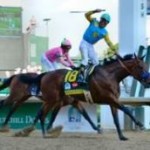 Saratoga has been called 'the graveyard of favorites'. But this Saturday, Saratoga Race Course will have a different crowd, most horse racing fans will be hoping that they will see American Pharoah win. A capacity crowd of 50,000 is expected Saturday at Saratoga.
Trainer Bob Baffert seems a little less enthusiastic than owner Ahmed Zayat about going for the Travers Stakes this Saturday but New York racing fans are ready to see him.
Kentucky Derby, Preakness, Belmont and Triple Crown winner American Pharoah is one of the few horses who has ever had close to 1,000 people come out to watch his morning workouts.
His frequent flyer miles will soon get him elite status if not a free ticket – he will have flown almost 19,000 miles this year as he lands in New York for the Travers Stakes. Flights so far have included California to Arkansas, back to California, back to Arkansas, onto Louisville, then Baltimore, back to Louisville, onto New York, back to California, cross-country to New Jersey, and back to California.
"I think a lot of people, they want their kids to see this horse. It means a lot to them," he said. "I remember when Zenyatta was running, I took (my son) Bode to see all her races, so he could say he saw a great mare run.
"Everybody wants to see something special. We all want to be able to say that we were there."
The 1 1/4-mile Travers, worth $1.6 million if American Pharoah makes it to the starting gate. Post
Positions were drawn on Tuesday night with American Pharoah set as the 1 to 5 favorite.
The complete Travers field is as follows (PP/Horse/Owner/Trainer/Jockey/Morning Line Odds):
1. Upstart/Ralph Evans, WinStar Farm/Richard Violette, Jr./Irad Ortiz, Jr. (15-1)
2. American Pharoah/Zayat Stables/Bob Baffert/Victor Espinoza (1-5)
3. Mid Ocean/Bermuda Limestone Thoroughbreds/George Weaver/Manny Franco (50-1)
4. Texas Red/Erich Brehm et al/Keith Desormeaux/Kent Desormeaux (6-1)
5. Frammento/Mossarosa/Nick Zito/Jose Ortiz (30-1)
6. Frosted/Godolphin Racing/Kiaran McLaughlin/Joel Rosario (6-1)
7. Keen Ice/Donegal Racing/Dale Romans/Javier Castellano (12-1)
8. Tale of Verve/Charles Fipke/Dallas Stewart/Gary Stevens (30-1)
9. King of New York/Harold Lerner/Ken McPeek/Julien Leparoux (50-1)
10. Smart Transition/Arnold Zetcher/John Shirreffs/John Velazquez (20-1)
The Travers will go off at 5:46 p.m. ET with NBC's television coverage of the race starting at 4:00 p.m. ET
Just think? You would have seen American Pharoah win the 2015 Kentucky Derby if you had been on this years Kentucky Derby Tours – join us for 2016!
Tags: Ahmed Zayat, American Pharoah, Bob Baffert, Dale Romans, Dallas Stewart, Frammento, Frosted, Gary Stevens, graveyard of favorites, Irad Ortiz Jr, Javier Castellano, Joel Rosario, John Shirreffs, John Velazquez, Jose Ortiz, Julien Leparoux, Keen Ice, Keith Desormeaux, Ken McPeek, Kent Desormeaux, Kentucky Derby, Kiaran McLaughlin, King of New York, Manny Franco, Mid Ocean, NBC, Nick Zito, Saratoga, Smart Transition, Tale of Verve, Texas Red, the Travers Stakes, trainer, Triple Crown, Upstart, Victor Espinoza, Zenyatta
Comments