What happens after a Triple Crown Win?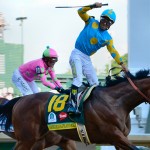 It had been 37 years since anyone has asked what happens after a horse wins the Triple Crown.  The last year anyone asked the question was 1978 and there had been three (YES 3) horses who had won the Triple Crown during the previous six years.  Everyone in horse racing had begun to think a Triple Crown win was the norm. Little did we know that we would have to wait almost four decades for American Pharoah.
Now that he has won the Triple Crown – what is next?  Here is a list of what prior Triple Crown winners have done.
Year, Horse, Return race, Date, Days off, Distance, conditions, Track, Result
1978 Affirmed Jim Dandy S. Aug. 8, 1978 59 1 1/8m, 3yo Saratoga 1st
1977 Seattle Slew Swaps S. July 3, 1977 23 1 1/4m, 3yo Hollywood 4th
1973 Secretariat Arlington Inv June 30, 1973 21 1 1/8m, 3yo Arlington 1st
1948 Citation Stars Stripes H. July 5, 1948 23 1 1/8m, 3yo&up Arlington 1st
1946 Assault Dwyer S. June 15, 1946 14 1 1/4m, 3yo Aqueduct 1st
1943 Count Fleet Did not race after Belmont
1941 Whirlaway Dwyer S. June 21, 1941 14 1 1/4m, 3yo Aqueduct 1st
1937 War Admiral allowance Oct. 26, 1937 143 1 1/16m, 3yo&up Laurel Park 1st
1935 Omaha Brooklyn H. June 22, 1935 14 1 1/8m, 3yo&up Aqueduct 3rd
1930 Gallant Fox Dwyer S. June 28, 1930 21 1 1/2m, 3yo Aqueduct 1st
1919 Sir Barton Dwyer S. July 10, 1919 29 1 1/8m, 3yo Aqueduct 2nd
American Pharoah's future is a flight to New Jersey – he is scheduled to arrive via plane from California, he has been vacationing at Del Mar Race Course to Atlantic City International Airport on Wednesday.  He will receive a police escort up the Garden State Parkway to the Monmouth Park stable area.
A field of six is expected for the 48th renewal of the $1 million Haskell, but all eyes will be on the Triple Crown winner who has won the Kentucky Derby, Preakness Stakes and Belmont Stakes.
His owner Ahmed Zayat has said that the horse will gallop over the track on Thursday, Friday and Saturday between 7:30- 7:50 a.m. Trainer Bob Baffert will be on hand. The Monmouth Park Clubhouse will be open to the public on Friday and Saturday from 7-8 a.m. to watch American Pharoah gallop.
Fans will get an opportunity to see him as he is scheduled to school in the paddock with the field for the first race at approximately 12:50 p.m. on Friday, July 31.
Bet there will be a large crowd to see American Pharoah!
Tags: Affirmed, Ahmed Zayat, American Pharoah, Assault, Belmont Stakes, Bob Baffert, Citation, Count Fleet, Del Mar Race Course, Gallant Fox, Haskell, horses, Kentucky Derby, Monmouth Park, Omaha, Preakness Stakes, Seattle Slew, Secretariat, Sir Barton, Swaps, Triple Crown, Triple Crown winners, War Admiral, Whirlaway
Comments