2019 Kentucky Derby Party with Mint Julep cupcakes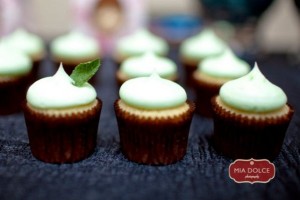 Did you decide to have a 2019 Kentucky Derby Party at home? How about Mint Julep Cupcakes? We thought a Mint Julep Cupcake recipe would be fun. Goodie Girls in Glendale, California used these recipes in an episode of Cupcake Wars.
Cupcake Ingredients:
1 cup butter
2 cups sugar
1 teaspoons vanilla extract
¼ teaspoon mint extract
4 eggs
2 3/4 cups flour
3 teaspoons baking powder
1 teaspoon salt
1 cup milk
3/4 cup bourbon (or whiskey)
1/4 cup clear Crème de Menthe
Bourbon and Mint Frosting Ingredients:
1 Cup Butter – Room Temperature
1/3 cup Bourbon (or whiskey)
¼ cup Green Crème de Menthe
Dash of Salt
4 cups Powdered Sugar
Extra Ingredients:
A little extra Bourbon for Soaking
Fresh Mint for Garnish (or a chocolate mint)
Directions:
Cupcakes:
Pre-heat oven to 350 Degrees (F). Place 36 liners in a cupcake pans. Whisk salt, baking powder, and 1 3/4 cups of the flour. Cream butter, sugar, eggs, and extracts in a large mixing bowl until creamy (make sure to scrape down the sides of the bowl). Gradually beat in the flour mixture. Add the milk and liquors to the batter, then the rest of the flour (1 cup). Mix as little as possible until the batter comes together. Fill paper lined cupcake pan with large ice cream scoop. Bake at 350 degrees (F) for 18 to 20 minutes. Cool for 10 minutes before removing from pans. Place on wire rack and cool completely before frosting.
When cooled and before frosting, brush extra bourbon over the tops of all cupcakes to give a little added kick of bourbon.
Bourbon and Mint Frosting:
With paddle attachment, cream butter until smooth. Add salt and 2 cups powdered sugar. Slowly beat in until smooth, add Bourbon and Crème de Menthe and mix on low speed. Add remaining sugar until smooth. Adjust sugar for consistency variances depending on desired outcome of frosting. Frost. Garnish with fresh mint leaf or chocolate mint mold. I also like to add a little green disco dust to make it glitter!
Next year, you can join Kentucky Derby Tours and enjoy the cupcakes at Churchill Downs in Louisville, Kentucky.
Comments