Garland of Roses for the Derby winner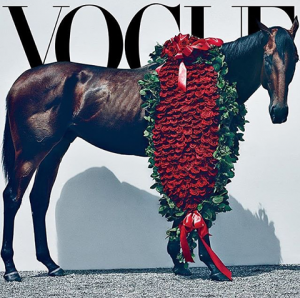 Over the years much has been written about the Kentucky Derby garland of roses. Daily Racing Form columnist Oscar Otis was one of the first people to write about the garland makers back in the 1940's. He said he found 2 ladies stitching in roses and that they worked for a full 24 hours before the race to have the garland ready.
Roses for the Kentucky Derby winner actually started long before anyone heard of the Run for the Roses. The rose garland for the Kentucky Derby winner first appeared in 1896 when Ben Brush was given a floral arrangement of white and pink roses for winning. Then in 1904, the red rose became the official flower of the Kentucky Derby.
The current form of the garland was first introduced in 1932 for the 58th running won by Burgoo King. Kingsley Walker Florist shop crafted the Derby garland for more than 50 years, starting in 1932. Betty J. Korfhage who passed away in 2002 was a fourth generation owner of the shop.
Kroger started making the garland of roses in 1987. The red Freedom rose is the variety used for the Garland of Roses. It is on display while being made at a local Kroger store.
The garland draped over Winning Colors in the 1988 Kentucky Derby is on display at the Kentucky Derby Museum. The 1988 rose garland was freeze-dried and encased in glass with an oak frame following the Derby win. The garland was donated to the museum by Hall of Famers trainer D. Wayne Lukas, former jockey Gary Stevens and the family of Eugene Klein (owner of Winning Colors). The garland has shared time in both the homes of Lukas and Stevens prior to the donation.
In 2005, Giacomo's connections also donated their freeze-dried framed garland of roses to the Kentucky Derby Museum.
In 2009, on the Sunday morning after Mine That Bird's Derby win, the connection draped the blanket near the Barbaro stature in front of the Kentucky Derby Museum. They passed out roses to very excited visitors.
In 2014, on the Monday morning after California Chrome's Derby win, visitors to the Kentucky Derby Museum were greeted by Chrome's assistant trainer Alan Sherman and given roses from the garland.
Kroger had to work a little overtime this year on the "crown" of the garland of roses. The "crown" has one rose for each horse entered in the Kentucky Derby. On Thursday there were still 20 horses entered in the race but by Saturday, there were only 18 horses entered and the "crown" was re-designed.
As far as we know, a week after the Derby, the 2015 Garland of Roses is still in the freezer at the Kentucky Derby Museum awaiting a decision on what the owners want to do with the gorgeous roses.
Tags: Alan Sherman, California Chrome, D. Wayne Lukas, Daily Racing Form, Eugene Klein, freeze-dried, Garland of Roses, Gary Stevens, Giacomo, jockey, Kentucky Derby, Kentucky Derby Museum, Kingsley Walker Florist, Mine That Bird, official flower, Oscar Otis, rose garland, Run for the Roses, Winning Colors
Comments