Jimmy Kilroe to be inducted into Racing Hall of Fame
LEGENDARY SANTA ANITA RACING SECRETARY FRANK E. 'JIMMY' KILROE HONORED WITH POSTHUMOUS SELECTION TO RACING'S HALL OF FAME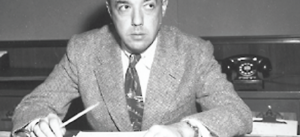 As was announced Monday by the National Museum of Racing and Hall of Fame, the legendary Frank E. "Jimmy" Kilroe, who served as Santa Anita's longtime Racing Secretary, Handicapper and later as a Senior Vice President, will be honored with posthumous induction to racing's Hall of Fame in Saratoga Springs, NY, on Aug. 2.
A native New Yorker who was born in 1912, Kilroe graduated from Columbia University prior to serving in the U.S. Army during World War II. Subsequent to his military service, Kilroe worked at both Arlington Park and Washington Park in Chicago prior to becoming Santa Anita's Racing Secretary and Handicapper for the 1953-54 Winter Meeting.
Regarded as an incredibly knowledgeable man who commanded high respect in racing circles the world over, Kilroe was credited with helping to attract many horses from Europe and South America during an incredible run at The Great Race Place which was cut short by retirement in 1990 due to a series of strokes, the first of which he suffered in 1989. In failing health, Kilroe, who was predeceased by his wife Martha, passed away on Nov. 16, 1996 at age 84.
A winner of the Eclipse Award of Merit in 1979 and the Joe E. Palmer Award, presented by the National Turf Writers Association in 1982, Kilroe was also a driving force in the creation of the American Graded Stakes initiative. Over a period of more than 35 years, Kilroe helped to forge a top quality, consistent racing program that placed Santa Anita Park at the pinnacle of American racing.
A further testament to the scope of Kilroe's influence and character was rendered by legendary LA Times columnist Jim Murray, on the occasion of Kilroe's 80th birthday, in 1992.
"I love Jimmy Kilroe because I learned more from Jimmy Kilroe than all the owners, trainers and writers I have known in 40 years," said Murray. "He's one of the purest gentlemen I have ever known in my life."
A close friend and confidant of the late Hall of Fame conditioner Charlie Whittingham, Kilroe is memorialized annually with the running of the Grade I Frank E. Kilroe Mile, which is customarily run on Santa Anita Handicap Day each March.
In addition to retired jockey Craig Perret, Kilroe is one of 12 influential "Pillars of the Turf" that will be honored with Hall of Fame induction Aug. 2.
Santa Anita press rel;ease
Comments