American Pharoah established a 2015 single season record for earnings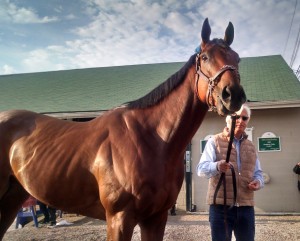 Triple Crown and Breeders' Cup Classic winner American Pharoah established a single season record for earnings in 2015 while his owner, Zayat Stables LLC, finished the year as the leading owner by earnings. In two other categories, trainer Todd Pletcher and jockey Javier Castellano again finished on top (for the sixth consecutive year and third consecutive year, respectively), according to final statistics released today by Equibase Company LLC, the Thoroughbred industry's official database for racing information.
American Pharoah won seven graded races and earned a record $8,288,800 in 2015, breaking the previous earnings record set in 2004 by dual classic winner Smarty Jones when he earned $7,563,535 (which included a $5 million bonus).
The 3-year-old colt became Thoroughbred horse racing's 12th Triple Crown winner when he won the Belmont Stakes by 5 1/2 lengths on June 6, 2015. He was the first horse in 37 years to accomplish the feat, following in the footsteps of Affirmed, who won the Triple Crown in 1978.
During his Triple Crown season, Affirmed earned $901,541, eclipsing a single-season earnings mark held by Secretariat, who had earned $860,404 during his Triple Crown season in 1973.
Six of American Pharoah's seven wins came in Grade 1 stakes, including the Arkansas Derby and the William Hill Haskell Invitational Stakes in addition to his Kentucky Derby, Preakness Stakes, Belmont Stakes and Breeders' Cup Classic wins.
(American Pharoah is now one of 15 horses to have won at least six Grade 1 races in one year. Only three horses have won more than six Grade 1 races in a single year: Lady's Secret won eight in 1986, Cigar won eight in 1995, and Bayakoa won seven in 1989.)
The year-end compilations are distributed annually by Equibase and include results from Thoroughbred racing in North America from January 1, 2015, through December 31, 2015. Expanded North American racing leaders' lists that include all trainers, jockeys, owners, and horses are available within Stats Central at equibase.com. These lists include the ability to look at leaders in a variety of categories, including age, sex, surface, graded races, and foaling year for horses.
Completing the list of top 10 horses by North American earnings were Tepin with $2,092,520 in earnings, Honor Code with $2,075,660, Frosted with $1,912,200, Effinex with $1,767,100, Keen Ice with $1,735,770, Tonalist with $1,695,000, Stephanie's Kitten with $1,658,800, Found (Ire) with $1,650,000, and Nyquist with $1,613,600. All horses ranked in the top 10 competed in the Breeders' Cup World Thoroughbred Championships with six competing in the Breeders' Cup Classic and with Tepin, Stephanie's Kitten, Found (Ire), and Nyquist each winning their respective races in addition to American Pharoah.
(When including the results of the Dubai World Cup card from March 28, 2015, at Meydan Racecourse, California Chrome was the second-leading earner with earnings of $2,100,000.) Information by Press release.
Tags: Affirmed, American Pharoah, Arkansas Derby, Belmont Stakes, Breeders' Cup Classic, California Chrome, Dubai World Cup, Effinex, Found, Frosted, Honor Code, horse racing, jockeys, Keen Ice, Kentucky Derby, Meydan Racecourse, Nyquist, owners, Preakness Stakes, Stephanie's Kitten, Tepin, thoroughbred, Tonalist, trainers, Triple Crown, Zayat Stables LLC
Comments