California Chrome to race at Los Alamitos on Saturday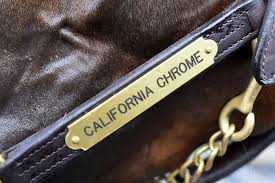 The penultimate chapter in California Chrome's fairytale career is scheduled to unfold this Saturday, December 17 at Los Alamitos Race Course, as the soon to be 6-year-old California-bred son of Lucky Pulpit readies for a highly anticipated rematch with Arrogate in the inaugural $12 million Pegasus World Cup Invitational Jan. 28 at Gulfstream Park–Chrome's farewell race before being retired to stud at Taylor Made Farm in Nicholasville, Ky.
"He looks very good," trainer Art Sherman said three days after Chrome had his final workout for the Los Alamitos Winter Challenge. "He's been training forwardly and I look for him to run a decent race."
If all goes well after Saturday, plans call for Chrome to leave for Florida on Jan. 6 "and train at Gulfstream prior to the race."
California Chrome will leave a gaping chasm not only in racing but in America's mainstream. Winner of the Kentucky Derby in 2014 when he was named Horse of the Year, California Chrome won the $10 million Dubai World Cup last March, was second by a half-length to champion-in-waiting Arrogate in the Breeders' Cup Classic at Santa Anita Nov. 5 and is North America's all-time leading money earner with $14,452,650, boasting a 15-4-1 record from 25 starts.
Chrome's life as a stallion will require an adjustment for both horse and trainer.
"When I look at that stall and see he's not in there, it will be a void for me," Sherman said. "But he's got some great mares lined up, so I'm hoping he'll be a really decent stud."
That, of course, remains to be seen. Meanwhile, Sherman can't complain.
"It's been one helluva ride for me," said the Brooklyn native who turns 80 come Feb. 17. "He's a once-in-a-lifetime horse. Every trainer hopes he can have a horse like him and I was lucky enough to have him. It's been great for me, my family and friends."
While the California Chrome story on the race track is due to end Jan. 28 at GulfstreamPark, his untarnished tale of the turf could live on in perpetuity.
Sherman said a book that would be authored by Daily Racing Form's Eclipse Award-winning Executive Columnist Jay Hovdey has been discussed.
"There are a lot of memories," Sherman said. "I can tell you that."
Santa Anita Press Release
Comments