Delta Downs Jackpot and Real Quiet Stakes for 2 year olds today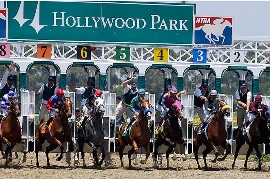 Now that Breeders' Cup weekend is over, the thoughts of horse racing fans turn to the 2014 Kentucky Derby. It is the 'Run for the Roses' on the first Saturday in May that is on many a horsemen's minds.
Now starts the Kentucky Derby prep races or as Churchill Downs likes to call them now – the Kentucky Derby Champion Series. Today in Louisiana, we have the $1 million Delta Downs Jackpot (which is part of the Derby points system) and the Real Quiet Stakes at soon to be closed Hollywood Park in Southern California (not part of the point system) which may showcase some prospects.
The Delta Downs Jackpot is the richest race of the Delta meet, and the Vinton, Louisiana track is showcasing it in spectacular style. People are taking notice of this race as last year's Delta Downs Jackpot which featured Goldencents, Itsmyluckyday and Mylute. The race's identity has broadened with those horses advancing to the 2013 Kentucky Derby.
The Real Quiet, even without graded status, has been won by eventual Kentucky Derby starters like Liaison, Chocolate Candy, Comma to the Top and Colonel John in recent years.
On Saturday, we could see a few Triple Crown contenders emerge.
Some of the names to watch in the Delta Downs Stakes are: Coastline trained by Mark Casse, Rankhasprivileges trained by Ken McPeek, Casiguapo trained by Mario Morales, Rise Up trained by Tom Amoss, Mighty Brown trained by Tim Ice and Mighty Brown is the son of 2008 Derby/Preakness winner Big Brown, and Rum Point trained by Doug O'Neill.
In the Real Quiet Stakes watch for : Karma King trained by Craig Dollase, Green Mask trained by Wesley Ward, Life Is A Joy and Tamarando both trained by Jerry Hollendorfer, Beach Hut trained by Bob Baffert, and Mr. Splash trained by Richard Baltas.
The following Saturday of Thanksgiving weekend, there are two races in which horses can earn points in the Kentucky Derby Championship Series: the Kentucky Jockey Club at Churchill Downs in Kentucky and Remsen Stakes at Aqueduct in New York. Both of these races are around two turns and any two turn major 2 year old stakes winner will go right to the front of the radar screen the Triple Crown.
That's four areas of the country producing 2 year old stakes winners in the next 8 days. It seems as if we are seeing more 2 year olds out racing in stakes but with Kentucky Derby points up for grabs – it can make sense. We will fill you in on the horses running in the Jockey Cup and Remsen Stakes next week.
Tags: 2014 Kentucky Derby, Aqueduct, Beach Hut, Big Brown, Bob Baffert, Breeders' Cup, Casiguapo, Chocolate Candy, Churchill Downs, Coastline, Colonel John, Comma to the Top, Craig Dollase, Delta Downs Jackpot, Doug O'Neill, first Saturday in May, Goldencents, Green Mask, Hollywood Park, horse racing, Itsmyluckyday, Jerry Hollendorfer, Karma King, Ken McPeek, Kentucky Derby Champion Series, Kentucky Derby prep races, Kentucky Jockey Club, Liaison, Life Is A Joy, Mario Morales, Mark Casse, Mighty Brown, Mr. Splash, Mylute, New York, Rankhasprivileges, Real Quiet Stakes, Remsen Stakes, Richard Baltas, Rise Up, Rum Point, Run for the Roses, Tamarando, Tim Ice, Tom Amoss, Triple Crown, Wesley Ward
Comments