Finalists announced for the 2017 Eclipse Awards
Led by Horse of the Year candidates Arrogate, Gun Runner and World Approval, the National Thoroughbred Racing Association (NTRA), Daily Racing Form and the National Turf Writers and Broadcasters (NTWAB)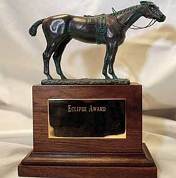 announced the finalists for the 2017 Eclipse Awards, recognizing excellence in Thoroughbred racing. Winners in 17 horse and human categories will be announced at the 47th annual Eclipse Awards dinner and ceremony, presented by Daily Racing Form, Breeders' Cup and The Stronach Group, on Thursday evening, January 25, at Gulfstream Park in Hallandale Beach, Fla.
Of the 269 eligible voters representing the NTRA, the NTWAB and Daily Racing Form, 250 (92.9%) took part in this year's voting. Finalists were determined in each category by voters' top three selections, using a 10-5-1 point basis. Eclipse Award winners are determined solely by first place votes.
The 2017 Eclipse Awards finalists (in alphabetical order) are:
Horse of the Year: Arrogate, Gun Runner, World Approval
Two-Year-Old Male: Bolt d'Oro, Good Magic, Solomini
Two-Year-Old Filly: Caledonia Road, Moonshine Memories, Rushing Fall
Three-Year-Old Male: Always Dreaming, Battle of Midway, West Coast
Three-Year-Old Filly: Abel Tasman, Elate, Unique Bella
Older Dirt Male: Arrogate, Collected, Gun Runner
Older Dirt Female: Forever Unbridled, Songbird, Stellar Wind
Male Sprinter: Imperial Hint, Mind Your Biscuits, Roy H
Female Sprinter: Bar of Gold, Paulassilverlining, Unique Bella
Male Turf Horse: Beach Patrol, Talismanic (GB), World Approval
Female Turf Horse: Lady Eli, Off Limits (IRE), Wuheida (GB)
Steeplechase Horse: All the Way Jose, Mr. Hot Stuff, Scorpiancer (IRE)
Owner: Godolphin Racing LLC, Juddmonte Farms, Winchell Thoroughbreds & Three Chimneys Farm
Breeder: Besilu Stables LLC, Clearsky Farms, WinStar Farm, LLC
Trainer: Steve Asmussen, Bob Baffert, Chad Brown
Jockey: Javier Castellano, Jose Ortiz, Mike Smith
Apprentice Jockey: Katie Clawson, Hector Rafael Diaz Jr., Evin A. Roman
In addition to honoring the 17 winners in the horse and human categories, Frank Stronach, Thoroughbred owner, breeder and racetrack owner, will receive the Eclipse Award of Merit for a lifetime of achievement in the Thoroughbred industry. Ray Arsenault will receive an Eclipse Award as the 2017 Horseplayer of the Year. Members of the media will be honored for outstanding coverage in six categories.
Tags: 2017 Eclipse Awards, Abel Tasman, All the Way Jose, always dreaming, Arrogate, Battle of Midway, Beach Patrol, Besilu Stables, Bob Baffert, Bolt d'Oro, Caledonia Road, Chad Brown, Clearsky Farms, Collected, Daily Racing Form, eclipse award of merit, Elate, Evin A. Roman, Forever Unbridled, Frank Stronach, Godolphin Racing, Good Magic, Gulfstream Park, Gun Runner, Hector Rafael Diaz Jr, Horse of the Year, Horseplayer of the Year, Imperial Hint, Javier Castellano, Jose Ortiz, Juddmonte Farms, Katie Clawson, Lady Eli, Mike Smith, Mind Your Biscuits, Moonshine Memories, Mr. Hot Stuff, National Thoroughbred Racing Association, National Turf Writers and Broadcasters, Off Limits, Paulassilverlining, Ray Arsenault, Roy H, Rushing Fall, Scorpiancer, Solomini, Songbird, Stellar Wind, Steve Asmussen, Talismanic, thoroughbred racing, Three Chimney Farm, Unique Bella, West Coast, Winchell Thoroughbreds, Winstar Farm, World Approval, Wuheida
Comments