Finalists for Eclipse Awards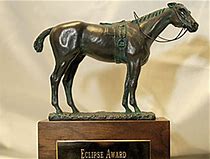 The finalists for the 2019 Eclipse Awards largely yielded the expected, including in the most coveted Horse of the Year category, where Bricks and Mortar, Maximum Security, and Mitole were selected by voters. Th3e awards will be held in Hallendale, Florida on January 23rd.
Established in 1971, the Eclipse Awards determine North American championships from Thoroughbred racehorses and individuals, as determined by votes cast by members of the National Turf Writers and Broadcasters Association, Daily Racing Form, and the National Thoroughbred Racing Association, whose voters include racing officials and Equibase representatives. Three finalists are chosen in each Eclipse classification.
Of the 254 eligible voters representing the NTRA, the NTWAB, and Daily Racing Form, 241 (95%) took part in this year's voting. Finalists were determined in each category by voters' top three selections, based on a 10-5-1 scale, though Eclipse Award winners are determined solely by first-place votes. 
In addition to honoring the 17 winners in the horse and human categories, Scott Coles will receive the Eclipse Award as the 2019 Horseplayer of the Year and members of the media will be honored for outstanding coverage in six categories, the winners having already been determined and announced last month.
2019 Eclipse Awards Finalists (in Alphabetical Order):
Horse of the Year: Bricks and Mortar, Maximum Security, Mitole
Two-Year-Old Male: Maxfield, Storm the Court, Structor
Two-Year-Old Filly: Bast, British Idiom, Sharing
Three-Year-Old Male: Code of Honor, Maximum Security, Omaha Beach
Three-Year-Old Filly: Covfefe, Guarana, Serengeti Empress
Older Dirt Male: McKinzie, Mitole, Vino Rosso
Older Dirt Female: Blue Prize, Elate, Midnight Bisou
Male Sprinter: Imperial Hint, Mitole, World of Trouble
Female Sprinter: Belvoir Bay, Come Dancing, Covfefe
Male Turf Horse: Bricks and Mortar, Mo Forza, World of Trouble
Female Turf Horse: Got Stormy, Sistercharlie, Uni
Steeplechase Horse: Brain Power, Scorpiancer, Winston C
Tags: Bast, Bricks and Mortar, British Idiom, Code of Honor, Covfefe, Eclipse Awards, Guarana, Horse of the Year, Maxfield, Maximum Security, McKinzie, Mitole, Older Dirt Male, Omaha Beach, Serengeti Empress, Sharing, Storm the Court, Structor, Three-Year-Old Filly, Three-Year-Old Male, Two-Year-Old Filly, Two-Year-Old Male, Vino Rosso
Comments