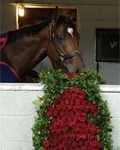 The big day is here!
The day when horse racing fans will be at many venues watching televisions which are glued to NBC Sports and then there are some lucky ones will be on the edge of their seats at Churchill Downs waiting for the 2017 Kentucky Derby to be run.
Part of the fun of the Kentucky Derby is the lead up to the race. The Kentucky Derby Festival starts two weeks before Derby and is full of events for people of all ages. The festival is Kentucky's largest single annual event, first ran from 1935–1937, and restarted in 1956 and includes: Thunder Over Louisville (the largest annual fireworks display in North America), the Great Balloon Race (featuring the Belle of Louisville & the Belle of Cincinnati – Kentucky Derby Tours will be aboard cheering), the Pegasus Parade, the Kentucky Derby Festival Marathon & miniMarathon, and the Kentucky Derby Festival Basketball Classic.
For those lucky enough to be in Louisville, visiting the Kentucky Derby Museum is a must. The Museum is located on the grounds of Churchill Downs in Louisville, Kentucky. Dedicated to preserving the history of the Kentucky Derby, it first opened its doors to the public in the spring of 1985. Much of its early funding came from a donation from the estate of James Graham Brown.
The Kentucky Derby Museum consists of two floors of exhibit space, including a 360-degree theater that shows the HD video The Greatest Race. Through the film and exhibits, visitors can learn what goes into the breeding and training of a young foal and the path it takes to the Kentucky Derby's winner circle.
There are the parties that are too numerous to mention. Each night of Derby week has a plethora of parties one can attend from the Kentucky Derby Trainers Dinner (another event that Kentucky Derby Tours attends), A Taste of Kentucky, Unbridled Eve, Barnstable-Brown Party, Hermitage Grand Gala, to the Silks in the Bluegrass.
Then on Derby Day, there are the thousands of neighborhood, city, casino, hotel and racetrack parties all over the country! Wherever you are this 2017 Kentucky Derby Day, have a wonderful time.
We hope you will think about joining Kentucky Derby Tours for the 2018 Kentucky Derby.
Tags: 2015 Kentucky Derby, 2016 Kentucky Derby, A Taste of Kentucky, Barnstable Brown Party, Belle of Cincinnati, Churchill Downs, Hermitage Grand Gala, horse racing, Kentucky, Kentucky Derby Day, Kentucky Derby Festival, Kentucky Derby Museum, Kentucky Derby Tours, Kentucky Derby Trainers Dinner, Louisville, NBC Sports, Silks in the Bluegrass, television, the Great Balloon Race, the Pegasus Parade, Thunder Over Louisville, Unbridled Eve
Comments