No selfie sticks, drones or in/out passes at Kentucky Derby or Oaks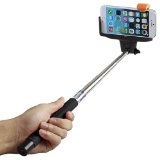 Churchill Downs Racetrack said by this press release that they will no longer allow re-entry on Kentucky Derby and Kentucky Oaks days for ticketed patrons who leave the grounds during those racing and entertainment programs.
The policy will be in effect beginning with this year's renewals of the $2-million-guaranteed Kentucky Derby Presented by Yum! Brands on Saturday, May 2 and the $1-million-guaranteed Longines Kentucky Oaks on Friday, May 1. Churchill Downs announced the policy change with the release of its annual update of items that are either permitted for carry-in at the admission gates or prohibited on each of those days.
The list of items that cannot be carried into the track by guests on Kentucky Oaks and Derby days was expanded to include selfie sticks and remote-controlled aircraft, including drones.
The end of re-entry by ticketed patrons to the track on Derby and Oaks days grew out of security issues regarding wait times at entry gates and growing concern for patrons victimized by the sale of counterfeit tickets and wristbands outside track gates.
"The decision to prohibit re-entry to ticketed patrons who leave the grounds is a common security policy at major sports and entertainment events and is long overdue at the home of the Kentucky Oaks and Derby," said Ryan Jordan, General Manager of Churchill Downs Racetrack. "This change in policy is intended to improve the arrival experience of our guests by shortening the entry lines into the facility and to better safeguard our guests from purchasing counterfeit tickets outside of our gates.
"Our previous re-entry policy made it a fairly simple task for ticketed patrons to exit the track and quickly generate copies of their tickets and wristbands for sale outside of our grounds. Those who purchase counterfeit items are denied access when they arrive at our admission gates, and thus have lost their money and, in many cases, the Kentucky Derby and Oaks experience they had hoped for either becomes an unpleasant memory or is ended altogether."
The addition of selfie sticks, and remote-controlled aircraft to the roster of prohibited items also grew out an increase in the popularity of drones and concern for the safety of Derby and Oaks Day patrons, the horses competing in races those days, and participating horsemen and members of their respective staffs.
Patrons who arrive at Churchill Downs admission gates with prohibited items will be required to return them to their vehicles or dispose of them. The track and its security partners do not store prohibited or excluded items for pick-up later in the day.
Comments