Racing Medication and Testing Consortium auction of horse halters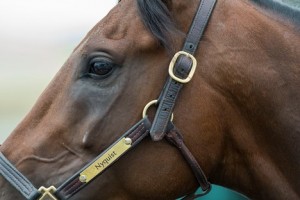 Beginning at 1 p.m. ET on December 2 and running for one week, the Racing Medication and Testing Consortium (RMTC), an industry 501(c)(3) nonprofit organization, will auction off halters of history-making racehorses, stallions and broodmares on its eBay page.
All proceeds from this auction go to the RMTC's Tactical Research Program, which funds studies focused on the identification and detection of illicit substances impacting racing integrity and safety.
In addition to funds from halter auctions in 2017 and 2018, the RMTC has received matching funds from private individuals and industry stakeholder organizations for specific research initiatives. To date, The Jockey Club, Jockeys' Guild, American Quarter Horse Association, Keeneland Association, Breeders' Cup and New York Racing Association have made significant contributions to studies funded through this program. In addition, earmarked funds have been committed by Churchill Downs Incorporated, Del Mar Thoroughbred Club and The Stronach Group.
Areas of special interest for studies funded through the program include bisphosphonates in horses in racing and race training, performance-enhancing or erformance-modifying substances, and emerging substances with potential health, welfare and/or integrity hazards.
"In just its second year, our Tactical Research Grant Program has already enabled our sport to make significant advances in targeting emerging threats and developing new techniques to test for them," said RMTC Executive Director and COO Dr. Mary Scollay. "These studies are critical to protecting the health and welfare of our horses and strengthening the integrity of racing competition."
Halters offered include: Arrogate, Awesome Again, California Chrome , Code of Honor, Corona Cartel (OH), Get Stormy, Ghosrzapper, Groupie Doll, Keen Ice, Lady Eli, Lava Man, Littleprincessemma, Malibu Moon, Maximum Security, McKinzie, Midnight Bisou, Mucho Macho Man, Omaha Beach, Orb, Rachel Alexandra, Silver Charm, Songbird, Speightstown, Tapit, Undrafted, War of Will, Wise Dan, Yoshida and Zenyatta.
The RMTC extends heartfelt thanks to Adena Springs, Steve Asmussen, Bob Baffert, Bill Mott Racing Stable, Michael Blowen, Larry Bramlage DVM, Calumet Farm, Mark Casse, Claiborne Farm, Crestwood Farm, Fox Hill Farms, Gainesway Farm, Hill 'n' Dale Farms, Ann Holbrook, Juddmonte Farms, Lane's End, Lazy E Ranch, Richard Mandella, Shug and Allison McGaughey, James P. Morehead DVM, Jerry Moss, Doug O'Neill, Daisy Phipps Pulito, Jason Servis, Spendthrift Farm, Stonestreet Farm, Mary Sullivan, Summer Wind Farm, Taylor Made Farm, Timber Town Stables, Wesley Ward, Gary and Mary West, Whisper Hill Farm and WinStar Farm, for their generous support of this initiative.
The RMTC consists of 23 racing industry stakeholders and organizations that represent Thoroughbred, Standardbred, American Quarter Horse and Arabian racing. The organization works to develop and promote uniform rules, policies and testing standards at the national level; coordinate research and educational programs that seek to ensure the integrity of racing and the health and welfare of racehorses and participants; and protect the interests of the racing public.
Press Release
Tags: Adena Springs, Ann Holbrook, Arrogate, Awesome Again, Bill Mott Racing Stable, Bob Baffert, California Chrome, Calumet Farm, Claiborne Farm, Code of Honor, Corona Cartel (OH), Crestwood Farm, Daisy Phipps Pulito, Doug O'Neill, Fox Hill Farms, Gainesway Farm, Gary West, Get Stormy, Ghosrzapper, Groupie Doll, Hill 'n' Dale Farms, James P. Morehead DVM, Jason Servis, Jerry Moss, Juddmonte Farms, Keen Ice, Lady Eli, Lane's End, Larry Bramlage DVM, Lava Man, Lazy E Ranch, Littleprincessemma, Malibu Moon, Mark Casse, Mary Sullivan, Maximum Security, McKinzie, Michael Blowen, Midnight Bisou, Mucho Macho Man, Omaha Beach, Orb, Rachel Alexandra, Racing Medication and Testing Consortium, Richard Mandella, RMTC, Shug McGaughey, Silver Charm, Songbird, Speightstown, Spendthrift Farm, Steve Asmussen, Stonestreet Farm, Summer Wind Farm, Tapit, Taylor Made Farm, Timber Town Stables, Undrafted, War of Will, Wesley Ward, Whisper Hill Farm, Winstar Farm, Wise Dan, Yoshida, Zenyatta
Comments