Top 5 winning times for the Kentucky Derby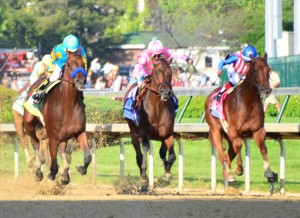 Everyone always asks how fast horses run. Here are the fastest winning times for the Kentucky Derby:
#1 is Secretariat in 1973
Secretariat holds the record for the fastest Kentucky Derby wins ever at 1:59 2/5, which is also the track record for the 1 1/4 mile distance at Churchill Downs. He went on to win the Triple Crown and was named Horse of the Year as well as champion 3-year-old for 1973. He is still considered by many to be the best thoroughbred ever to race. Sham — Secretariat's fierce rival — ran second to him in the Derby in 1:59.90. His time was faster than that of many winners over the years, and it was a race for the ages. Unfortunately, his time doesn't count because he didn't win.
#2 is Monarchos in 2001
Monarchos surprised everyone when he won the Kentucky Derby in 1:59.97 in 2001, becoming the second-fastest Derby winner in history. He rallied from 13th place early in the race to ultimately win by 4 3/4 lengths. He was unplaced in the Preakness and ran third in the Belmont Stakes. He died in October 2016 after emergency intestinal surgery.
#3 is Northern Dancer in 1964
Northern Dancer has the third fastest Kentucky Derby win of all time at 2:00 flat. The Canadian-bred horse had an awesome 3-year-old season with wins in the Flamingo Stakes, Florida Derby, Blue Grass Stakes, Preakness and the Queen's Plate. He finished 3rd in the Belmont and was retired soon after, dying in 1990 at the age of 29.
#4 is Spend a Buck in 1985
Spend a Buck won his Kentucky Derby in wire-to-wire fashion, coming home 5 1/4 lengths in front of the second place horse in a final time of 2:00 1/5. It was the fourth fastest Derby win ever. He went on to become 1985's Horse of the Year and Champion 3-year-old Colt. Then his owner and trainer made the controversial decision to skip the rest of the Triple Crown, running Spend a Buck in the Jersey Derby instead. The horse was eligible for a $2 million bonus if he won the Jersey Derby. He did win, so his owners made the right choice, at least financially.
#5 is Decidely in 1962
Decidedly won the Kentucky Derby in 2:00.40 in 1962, the fifth fastest winner in the history of the race. The gray colt was sired by Determine, who also won the Derby in 1954. Decidedly raced through age 5 and retired with a record of 11 wins, 9 seconds, and 4 thirds in 43 starts, with earnings of $318,989.
Comments