Views of Kentucky Derby Museum expansion
Last month, we told you about the exciting expansion planned for the Kentucky Derby Museum in 2018. The project is expected to last from May, 2018 (after 2018 Kentucky Derby) to November, 2018 (Breeders' Day at Churchill Downs). Kentucky Derby Tours cannot wait to see a three story Museum dedicated to the Kentucky Derby. Local Louisville company Hubbuch & Co. was awarded the contract for architectural and design services. Three renderings are provided for you to see what it will look like.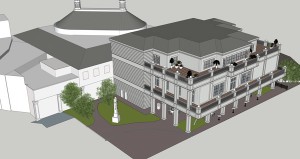 This is an exterior view of the project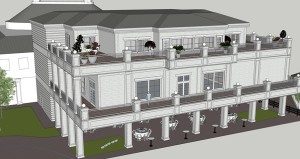 Another exterior view of the project
Here is a view of the stable area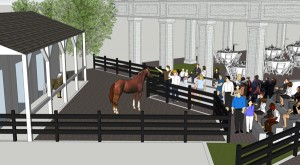 A little history about the Museum:
The Kentucky Derby Museum is an American Thoroughbred horse racing museum located on the grounds of Churchill Downs in Louisville, Kentucky. Dedicated to preserving the history of the Kentucky Derby, it first opened its doors to the public in the spring of 1985. Much of its early funding came from a donation from the estate of James Graham Brown.
The museum consists of two floors of exhibit space, including a 360-degree theater that shows the HD video The Greatest Race. Through the film and exhibits, visitors can learn what goes into the breeding and training of a young foal and the path it takes to the Kentucky Derby's winner circle. Every Kentucky Derby win is honored in the Warner L. Jones Time Machine, where visitors can watch any Kentucky Derby from 1918 to the present day. Exhibits highlight the stories of owners, trainers and jockeys as well as the importance of African American jockeys and trainers to the race and the Thoroughbred industry. Guided tours of Churchill Downs' barn and infield areas, jockeys' quarters, "millionaires row" and press box are also offered.
The museum was devastated by flash flooding on August 4, 2009. and remained closed for recovery and cleanup. Every exhibit on the main floor of the museum was affected in some way by water damage. Since the exhibits needed to be dismantled and many were destroyed, the museum's Board of Directors decided to embrace the opportunity for a renovation. The museum underwent major renovations and reopened on April 18, 2010 in time for the 2010 Kentucky Derby. Though a significant renovation had been planned, the flood damages accelerated the time schedule and increased the expected size of the renovation project.
Kentucky Derby Tours remembers walking through the Museum in hard-hat as it was being built in the early 1980's. We certainly could not have realized how it would look these 30 years later.
Comments