2015 Eclipse Awards makes American Pharoah 'Horse of the Year'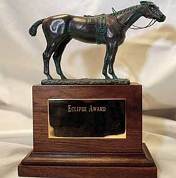 American Pharoah becomes the second unanimous Horse of the Year, joining John Henry in 1981, to sweep all votes in the Horse of the Year category. American Pharoah received all 261 votes from the National Turf Writers and Broadcasters, Daily Racing Form and the National Thoroughbred Racing Association block of Equibase field personnel and North American racing officials.
American Pharoah also was a unanimous choice for Champion 3-year-old by the Eclipse Award voters. In 2015, American Pharoah won seven of eight races, six of those grade one events, including the Arkansas Derby, Kentucky Derby, Preakness Stakes, Belmont Stakes, Haskell Invitational and the Breeders' Cup Classic. He was the first horse in 37 years to sweep the Triple Crown and the first to sweep what has been referred to as Thoroughbred horse racing's "Grand Slam" of the Triple Crown races and the Breeders' Cup Classic. He also set a single season earnings record of $8,288,800.
It was also a big night for the American Pharoah team as Zayat Stables won both the Outstanding Owner and Outstanding Breeder awards and American Pharoah's trainer, Bob Baffert, won his fourth Outstanding Trainer Award. American Pharoah's jockey, Victor Espinoza, finished second in the Outstanding Jockey category to Javier Castellano, who captured the honor for the third consecutive year.
(Horse ages in parentheses where applicable; Country codes indicate a foreign breeding designation)
• Two-Year-Old Male: Nyquist
• Two-Year-Old Filly: Songbird
• Three-Year-Old Male: American Pharoah
• Three-Year-Old Filly: Stellar Wind
• Older Dirt Male: Honor Code (4)
• Older Dirt Female: Beholder (5)
• Male Sprinter: Runhappy (3)
• Female Sprinter: La Verdad (5)
• Male Turf Horse: Big Blue Kitten (7)
• Female Turf Horse: Tepin (4)
• Steeplechase Horse: Dawalan (FR) (5)
• Owner: Zayat Stables
• Breeder: Zayat Stables
• Trainer: Bob Baffert
• Jockey: Javier Castellano
• Apprentice Jockey: Tyler Gaffalione
• Horse of the Year: American Pharoah
The winner of the Award of Merit, voted on by a panel of representatives from the three presenting organizations and previously announced, is Leonard Lavin. The Award of Merit is presented to honor outstanding lifetime achievement in the Thoroughbred industry.
Horseplayer of the Year
John O'Neil was honored as the 2015 Horseplayer of the Year as the winner of the Daily Racing Form /NTRA National Handicapping Championship.
Media Eclipse Awards also are given in the categories of photography, audio and multi-media Internet, news/enterprise writing, feature/commentary writing, national television-feature and national television-live racing programming to recognize members of the media for outstanding coverage of Thoroughbred racing. The 2015 Media Eclipse Awards winners, determined by a judges' panel for each category and previously announced, are:
• Photography – Scott Serio, Cecil Guardian, "American Pharoah Trains at Keeneland for Breeders' Cup," November 4, 2015; and Michael Clevenger, Louisville Courier-Journal, "American Pharoah Wins the Belmont Stakes," June 7, 2015
• Writing – Feature/Commentary – Jennie Rees, Louisville Courier-Journal; "Dyslexia Doesn't Slow Keen Ice Trainer Romans"; October 28, 2015
• Writing – News/Enterprise – Tim Sullivan, Louisville Courier-Journal; "Family, PETA at Odds Over Horseman's Death"; September 6, 2015
• Television – Live Racing – NBC Sports, "2015 Belmont Stakes"; June 6, 2015
• Television – Feature – Digital Kitchen (Hennegan Brothers, directors) – AT&T U-verse, "Ironman Perry Ouzts"; August 15, 2015
• Audio and Multi-Media Internet – Mary Simon, Daily Racing Form, "Regret at 100"; April 20, 2015.
Tags: American Pharoah, Arkansas Derby, Beholder, Belmont Stakes, Bob Baffert, Breeders' Cup Classic, Daily Racing Form, Grand Slam, Haskell Invitational, Horse of the Year, jockey, Kentucky Derby, National Thoroughbred Racing Association, National Turf Writers, Nyquist, Preakness Stakes, Runhappy, Triple Crown, Victor Espinoza, Zayat Stables
Comments