2016 Early Triple Crown Nominees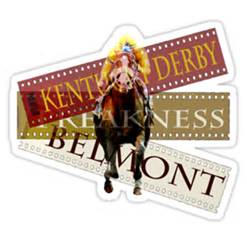 Here are the early 2016 Triple Crown nominees in alphabetical order. The Triple Crown is the Kentucky Derby, the Preakness Stakes, and the Belmont Stakes. The horse racing world is abuzz. Kentucky Derby Tours is wondering if the 2016 Kentucky Derby winner is on the list?
Active Management, Adelberg, Adios Reality, Admiralty, Adulator, Adventist, Air Force Blue, Air Vice Marshal, Airman's Creed, Airoforce, Algenon, All World, Allaboutaction, Alpha Team, American Dubai, American Freedom, American Promise, Amis Gizmo, Ample Sufficiency, An Khe Pass, Annals of Time, Annual Report, Arabian Leopard, Arrogate, Attraction, Avast Matey, Awesome Banner, Awesome Gent, Awesome Slew, Awesome Speed, Azar, Aztec Sense, Back Togetheragain, Bar None, Battery, Battle Tap, Benediction, Big Red Rocket, Big Squeeze, Billy's Kitten, Bird of Trey, Bird Song, Bistraya, Black Ops, Blue Creek (GB), Boalt Hall, Bodestar, Bombard, Bombs Away, Brody's Cause, Butler Field, Cadeyrn, Candy My Boy, Can't Remember, Cape Nelo, Caribbean, Casigordo, Catapult, Charmed Victory, Cherry Wine, Classic Ride, Classy Bird, Clear the Way, Coach Q, Cocked and Loaded, Cold Blood, Collected, Collective Wisdom, Colonel Dan, Commend, Condominium, Conquest Big E, Conquest Daddyo, Conquest Harlequin, Conquest Streetwar, Conquest Superstar, Conquest Windycity, Cotton Town, Creator, Crescent Drive, Cupid, Curlin Rules, Cutacorner, Danebury, Danzing Candy, Dazzling Gem, Decorated Soldier, Demonslayer, Denman's Call, Deserved, Destin, Diplodocus, Direct Message, Discreetly Firm, Discreetness, Divine Shift, Dixie Runner, Doctor Mounty, Dolphus, Donegal Moon, Don't Be So Salty, Drefong, Dressed in Hermes, Driven West, Economic Model, Eddie Haskell, Ekati Wildcat, El Charro, Emoji Man, Engram, Enroute, Eric the Trojan, Esposito, Eternal Bird, Exaggerator, Fashionable Freddy, Fellowship, Fetisov, Fish Trappe Road, Flexibility, Flora Dora, Flying Bullet, Forevamo, Forever Bernardini, Forever d'Oro, Fort Smith, Found Money, Foxtrot Charlie, Frank Conversation, Freemark, French Getaway, Galileo's Spear (FR), Ganges, General Macarthur, Get Jets, Gettysburg, Giant Trick, Gift Box, Gimlet, Giopress, Glenn Coco, Goats Town, Good for It, Grand Max, Grand Nenuco, Gray Sky, Great Dane, Greenpointcrusader, Gulf of Mexico, Gun Runner, Gwynn Oak Park, Hammers Vision, Hand of Power, Happy Match, Hard Hitter, Hard Study, Hardly Home, Harlan Punch, Hatter, Hawk, Henry the King, Highly Prized (GB), Hint of Roses, Hit It a Bomb, Hoffenheim, Hollywood Strike, Hot Item, Huntin'theholidays, I Will Score, I. M. Mighty, Ifyousnoozeyoulose, Ima Monster, I'malreadythere, In Equality, Inside Straight, Irish, Is Trevor Clever, Isotherm, Its All Relevant, It's The Ice (GB), Japhir, Jay's Way, Jazzy Times, Jess I Am, John Q. Public, Journey by Sea, Judaman, Justin Squared, Kasseopia (GB), Kelly Tough, Kenji's Giant, King Kranz, Kismet's Heels, Kiss Limit, Knights Key, Lani, Laoban, Latest Craze, Let Me Go First, Let's Meet in Rio, Liam the Charmer, Life Is a Trip, Little Mo, Lost Iron, Lubsen, Luna de Loco, Mac Daddy Mac, Made of Steel, Magical Mystery, Majesto, Marengo Road, Marqula, Marty Montana, Master Magician, Matt King Coal, Memories of Winter, Mighty Moses, Miles of Humor, Mo for the Money, Mo Power, Mo Tom, Mohaymen, Molasses Brown, Money Illusion, Monte Man, Moon Gate Warrior, Moonlight Drive (ITY), Mooose, Mor Spirit, More Alex, Mr. Coker, Mr. Roary, Mt Veeder, My Chennai Xpress,Name Changer, Name for the Blame, Never Gone South, New York Candy, Nominal Dollars, Northwest Tale, Nyquist, One More Orman, Opportunistic, Oregon, Ossetra, Outwork, Path of David, Patton Proud, Percolator, Perfect Parade, Perfect Saint, Picadilly Roadster, Pinnacle Peak, Pinson, Pinstripe, Prime Time Man, Prospectus, Quijote, Ralis, Rally Cry, Rated R Superstar, Ready Dancer, Realm, Richie the Bull, Riddler, Riker, Rolling Tizway, Royal Obsession, Safe Passage, Sail Ahoy, Saint Ignatius, Saltini, Sam Missile (IRE), Saratoga Mischief, Sawyers Mickey, Scholar Athlete, Sea Wizard, Seeking Blame, Seeking the Soul, Semper Fortis, Sensational Ride, Seymourdini, Shagaf, Shakhimat, Siding Spring, Sightforsoreeyes, Singleton, Smokey Image, Snow Fighter, Somesville, Sorryaboutnothing, Sound the Horns, Southern Pharaoh, Southside Warrior, Southwest Trail, Speed Check, Spikes Shirl, Star Hill, Start a War, Stone, Stormin In, Stradivari, Street Vision, Sudden Surprise, Suddenbreakingnews, Sunny Ridge, Swagger Jagger, Swipe, Synchrony, Tale of Mist, Tale of S'avall, Tally, Tarpon Bay Road, Tasit, Tathqeef, Ten Blessings, That Makes Sense, The Big Mo, The Chinaman, The Last Rep, The Lieutenant, Thirdhalf, Thunder Pass, Time Will Tell, Tiznoble, Toews On Ice, Tom's Ready, Torrontes, Toughest 'Ombre, Tour de Force, Triple Creek, Trojan Nation, True Solitaire (IRE), Turulu, Twenty Four Seven, Twirling, Twizz, Unbridled Outlaw, Uncle Guy, Uncle Jerry, Uncle Lino, Uncle Walter, Undeniable U, Unexplained, Unified, unnamed horse (Weight No More, dam), Urban Bourbon, Urlacher, Valiant Minister, Van Damme, Victory Arch, Virtual Machine, Viva La Kid, Vorticity, Vulcan's Forge, Walk Out, Westfest, Wheels Up Now, Whipsaw, Whitmore, Who's Out, Wild About Deb, Williamsburg, Wine Not, Z Royal, Ziconic, Zulu, and Zulu Alpha.
Who is your favorite?
Tags: Active Management, Adelberg, Adios Reality, Admiralty, Adulator, Adventist, Air Force Blue, Air Vice Marshal, Airman's Creed, Airoforce, Algenon, All World, Allaboutaction, Alpha Team, American Dubai, American Freedom, American Promise, Amis Gizmo, Ample Sufficiency, An Khe Pass, Annals of Time, Annual Report, Arabian Leopard, Arrogate, Attraction, Avast Matey, Awesome Banner, Awesome Gent, Awesome Slew, Awesome Speed, Azar, Aztec Sense, Back Togetheragain, Bar None, Battery, Battle Tap, Benediction, Big Red Rocket, Big Squeeze, Billy's Kitten, Bird of Trey, Bird Song, Bistraya, Black Ops, Blue Creek (GB), Boalt Hall, Bodestar, Bombard, Bombs Away, Brody's Cause, Butler Field, Cadeyrn, Can't Remember, Candy My Boy, Cape Nelo, Caribbean, Casigordo, Catapult, Charmed Victory, Cherry Wine, Classic Ride, Classy Bird, Clear the Way, Coach Q, Cocked and Loaded, Cold Blood, Collected, Collective Wisdom, Colonel Dan, Commend, Condominium, Conquest Big E, Conquest Daddyo, Conquest Harlequin, Conquest Streetwar, Conquest Superstar, Conquest Windycity, Cotton Town, Creator, Crescent Drive, Cupid, Curlin Rules, Cutacorner, dam, Danebury, Danzing Candy, Dazzling Gem, Decorated Soldier, Demonslayer, Denman's Call, Deserved, Destin, Diplodocus, Direct Message, Discreetly Firm, Discreetness, Divine Shift, Dixie Runner, Doctor Mounty, Dolphus, Don't Be So Salty, Donegal Moon, Drefong, Dressed in Hermes, Driven West, Economic Model, Eddie Haskell, Ekati Wildcat, El Charro, Emoji Man, Engram, Enroute, Eric the Trojan, Esposito, Eternal Bird, Exaggerator, Fashionable Freddy, Fellowship, Fetisov, Fish Trappe Road, Flexibility, Flora Dora, Flying Bullet, Forevamo, Forever Bernardini, Forever d'Oro, Fort Smith, Found Money, Foxtrot Charlie, Frank Conversation, Freemark, French Getaway, Galileo's Spear (FR), Ganges, General Macarthur, Get Jets, Gettysburg, Giant Trick, Gift Box, Gimlet, Giopress, Glenn Coco, Goats Town, Good for It, Grand Max, Grand Nenuco, Gray Sky, Great Dane, Greenpointcrusader, Gulf of Mexico, Gun Runner, Gwynn Oak Park, Hammers Vision, Hand of Power, Happy Match, Hard Hitter, Hard Study, Hardly Home, Harlan Punch, Hatter, Hawk, Henry the King, Highly Prized (GB), Hint of Roses, Hit It a Bomb, Hoffenheim, Hollywood Strike, Hot Item, Huntin'theholidays, I Will Score, I. M. Mighty, I'malreadythere, Ifyousnoozeyoulose, Ima Monster, In Equality, Inside Straight, Irish, Is Trevor Clever, Isotherm, It's The Ice (GB), Its All Relevant, Japhir, Jay's Way, Jazzy Times, Jess I Am, John Q. Public, Journey by Sea, Judaman, Justin Squared, Kasseopia (GB), Kelly Tough, Kenji's Giant, King Kranz, Kismet's Heels, Kiss Limit, Knights Key, Lani, Laoban, Latest Craze, Let Me Go First, Let's Meet in Rio, Liam the Charmer, Life Is a Trip, Little Mo, Lost Iron, Lubsen, Luna de Loco, Mac Daddy Mac, Made of Steel, Magical Mystery, Majesto, Marengo Road, Marqula, Marty Montana, Master Magician, Matt King Coal, Memories of Winter, Mighty Moses, Miles of Humor, Mo for the Money, Mo Power, Mo Tom, Mohaymen, Molasses Brown, Money Illusion, Monte Man, Moon Gate Warrior, Moonlight Drive (ITY), Mooose, Mor Spirit, More Alex, Mr. Coker, Mr. Roary, Mt Veeder, My Chennai Xpress, Name Changer, Name for the Blame, Never Gone South, New York Candy, Nominal Dollars, Northwest Tale, Nyquist, One More Orman, Opportunistic, Oregon, Ossetra, Outwork, Path of David, Patton Proud, Percolator, Perfect Parade, Perfect Saint, Picadilly Roadster, Pinnacle Peak, Pinson, Pinstripe, Prime Time Man, Prospectus, Quijote, Ralis, Rally Cry, Rated R Superstar, Ready Dancer, Realm, Richie the Bull, Riddler, Riker, Rolling Tizway, Royal Obsession, Safe Passage, Sail Ahoy, Saint Ignatius, Saltini, Sam Missile (IRE), Saratoga Mischief, Sawyers Mickey, Scholar Athlete, Sea Wizard, Seeking Blame, Seeking the Soul, Semper Fortis, Sensational Ride, Seymourdini, Shagaf, Shakhimat, Siding Spring, Sightforsoreeyes, Singleton, Smokey Image, Snow Fighter, Somesville, Sorryaboutnothing, Sound the Horns, Southern Pharaoh, Southside Warrior, Southwest Trail, Speed Check, Spikes Shirl, Star Hill, Start a War, Stone, Stormin In, Stradivari, Street Vision, Sudden Surprise, Suddenbreakingnews, Sunny Ridge, Swagger Jagger, Swipe, Synchrony, Tale of Mist, Tale of S'avall, Tally, Tarpon Bay Road, Tasit, Tathqeef, Ten Blessings, That Makes Sense, The Big Mo, The Chinaman, The Last Rep, The Lieutenant, Thirdhalf, Thunder Pass, Time Will Tell, Tiznoble, Toews On Ice, Tom's Ready, Torrontes, Toughest 'Ombre, Tour de Force, Triple Creek, Trojan Nation, True Solitaire (IRE), Turulu, Twenty Four Seven, Twirling, Twizz, Unbridled Outlaw, Uncle Guy, Uncle Jerry, Uncle Lino, Uncle Walter, Undeniable U, Unexplained, Unified, unnamed horse (Weight No More, Urban Bourbon, Urlacher, Valiant Minister, Van Damme, Victory Arch, Virtual Machine, Viva La Kid, Vorticity, Vulcan's Forge, Walk Out, Westfest, Wheels Up Now, Whipsaw, Whitmore, Who's Out, Wild About Deb, Williamsburg, Wine Not, Z Royal, Ziconic, Zula Alpha, Zulu
Clairenmike
Comments