35 races on the Road to the 2015 Kentucky Derby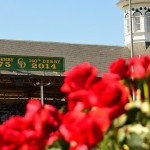 Spring is just around the corner and people are starting to think Kentucky Derby. Thoroughbred horse racing just loves this time of year! More people will be watching this prep season after the rise in popularity of the 2014 Kentucky Derby winner California Chrome who just received two Eclipse Awards.
For the horses, there are 35 races in the 2015 road to the Kentucky Derby at Churchill Downs in Louisville, Kentucky with 20 Kentucky Derby Prep Races (15 of these 20 races have been run – see results) and 16 Championship Series Races with higher points available. If the field is limited in size, the horses with the highest points will be in the Derby.
Date Race Racetrack Distance 1st (Points) 2nd (Points) 3rd (Points) 4th (Points)
Sept. 6 Iroquois Churchill Downs 1 1/16 Miles Lucky Player (10) Bold Conquest (4) Hashtag Bourbon (2) Danny Boy (1)
Sept. 27 FrontRunner Santa Anita 1 1/16 Miles American Pharoah (10) Calculator (4) Texas Red (2) Lord Nelson (1)
Oct. 4 Champagne Belmont Park 1 Mile Daredevil (10) Upstart (4) The Truth or Else (2) El Kabeir (1)
Oct. 4 Breeders' Futurity Keeneland 1 1/16 Miles Carpe Diem (10) Mr. Z (4) Bold Conquest (2) Tough Customer (1)
Oct. 5 Grey Woodbine 11/16 Miles (S) International Star (10) Conquest Typhoon (4) Hollywood Critic (2) Flashaway (1)
Nov. 1 Breeders' Cup Juvenile Santa Anita 1 1/16 Miles Texas Red (10) Carpe Diem (4) Upstart (2) The Great War (1)
Nov. 22 Delta Downs Jackpot Delta Downs 1 1/16 Miles Ocho Ocho Ocho (10) Mr. Z (4) Far Right (2) Saratoga Heater (1)
Nov. 29 Remsen Aqueduct 1 1/8 Miles Leave the Light On (10) Frosted (4) Keen Ice (2) Classy Class (1)
Nov. 29 Kentucky Jockey Club Churchill Downs 1 1/16 Miles El Kabeir (10) Imperia (4) Eagle (2) International Star (1)
Dec. 20 Los Alamitos Futurity Los Alamitos 1 1/16 Miles Dortmund (10) Firing Line (4) Mr. Z (2) Bench Warrant (1)
Jan. 3 Jerome Aqueduct 1 Mile 70 Yards El Kabeir (10) Nasa (4) General Bellamy (2) Ackeret (1)
Jan. 10 Sham Santa Anita 1 Mile Calculator (10) Rock Shandy (4) Pioneerof the West (2) St. Joe Bay (1)
Jan. 17 Lecomte Fair Grounds 1Mile70 Yards International Star (10) War Story (4) Tiznow R J (2) Another Lemon Drop (1)
Jan. 19 Smarty Jones Oaklawn Park 1 Mile Far Right (10) Bayerd (4) Mr. Z (2) Private Prospect (1)
Jan. 24 Holy Bull Gulfstream Park 1 1/16 Miles Upstart (10) Frosted (4) Bluegrass Singer (2) Juan and Bina (1)
Feb. 7 Withers Aqueduct 1 1/16 Miles (10) (4) (2) (1)
Feb. 7 Robert B. Lewis Santa Anita 1 1/16 Miles (10) (4) (2) (1)
Feb. 14 El Camino Real Derby Golden Gate 1 1/8 Miles (S) (10) (4) (2) (1)
Feb. 16 Southwest Oaklawn Park 1 1/16 Miles (10) (4) (2) (1)
Kentucky Derby Championship Series (16 races)
Date Race Racetrack Distance 1st (Points) 2nd (Points) 3rd (Points) 4th (Points)
Feb. 21 Fountain of Youth Gulfstream Park 1 1/16 Miles (50) (20) (10) (5)
Feb. 21 Risen Star Fair Grounds 1 1/16 Miles (50) (20) (10) (5)
March 7 Gotham Aqueduct 1 1/16 Miles (50) (20) (10) (5)
March 7 San Felipe Santa Anita 1 1/16 Miles (50) (20) (10) (5)
March 7 Tampa Bay Derby Tampa Bay Downs 1 1/16 Miles (50) (20) (10) (5)
March 14 Rebel Oaklawn Park 1 1/16 Miles (50) (20) (10) (5)
March 21 Spiral Turfway Park 1 1/8 Miles (S) (50) (20) (10) (5)
March 22 Sunland Derby Sunland Park 1 1/8 Miles (50) (20) (10) (5)
March 28 UAE Derby Meydan Racecourse 1 3/16 Miles (100) (40) (20) (10)
March 28 Florida Derby Gulfstream Park 1 1/8 Miles (100) (40) (20) (10)
March 28 Louisiana Derby Fair Grounds 1 1/8 Miles (100) (40) (20) (10)
April 4 Wood Memorial Aqueduct 1 1/8 Miles (100) (40) (20) (10)
April 4 Blue Grass Keeneland 1 1/8 Miles (100) (40) (20) (10)
April 4 Santa Anita Derby Santa Anita 1 1/8 Miles (100) (40) (20) (10)
April 11 Arkansas Derby Oaklawn Park 1 1/8 Miles (100) (40) (20) (10)
April 11 Lexington Keeneland 1 1/16 Miles (10) (4) (2) (1)
Tags: Aqueduct, Belmont Park, California Chrome, Churchill Downs, Delta Downs, Eclipse Award, Fair Grounds, Golden Gate, Gulfstream Park, horse racing, horses, Keeneland, Kentucky, Kentucky Derby, Kentucky Derby prep races, Kentucky Derby winner, Los Alamitos, Louisville, Meydan Racecourse, Oaklawn Park, racetrack, Santa Anita, Sunland Park, Tampa Bay Downs, thoroughbred, Turfway Park, Woodbine
Comments