Bob Baffert is the 2018 inductee to the Saratoga Walk of Fame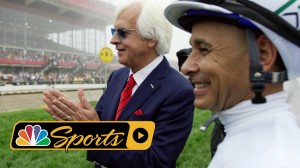 The New York Racing Association, Inc. (NYRA) today announced the 2018 inductee to the Saratoga Walk of Fame: four-time Eclipse Award-winning trainer Bob Baffert, who is one of only two trainers in history to win multiple Triple Crowns.
The Saratoga Walk of Fame, which opened in 2015, honors and showcases the achievements of those who have made significant contributions to the sport of thoroughbred racing and the advancement of Saratoga Race Course. The covered structure, featuring the traditional Saratoga turrets, houses commemorative plaques, videos and memorabilia honoring various industry leaders, including owners, trainers and jockeys, who have made an indelible mark on thoroughbred racing.
Prior to the opening of the Saratoga Walk of Fame, the tradition of recognizing the greats of the game started in 2013 with the Red Jacket Ceremony, named for the eponymous blazer awarded to the recipients.
The plaque for 2018 honoree Baffert will be unveiled during the Red Jacket Ceremony at Saratoga Race Course on Friday, August 24, the eve of the Grade 1, $1.25 million Runhappy Travers. During the ceremony, Baffert will receive an emblematic Saratoga red jacket.
"The Walk of Fame is designed to recognize the men and women who have made outstanding contributions to our sport and who have achieved great success. Bob Baffert is certainly one such individual. Bob won the Triple Crown in 2015 and 2018 after our sport had endured a 37-year drought since the feat had last been achieved. In winning multiple Triple Crowns, he joins Sunny Jim Fitzsimmons as just the second trainer in history to do so. At Saratoga, he has trained back to back Travers winners, including Arrogate, who delivered a record-shattering tour de force victory in 2016, punctuated by an encore performance with West Coast last season," said NYRA CEO and President Chris Kay. "Bob's achievements have firmly established him as one of the most successful trainers in modern history. It is with sincere pleasure that we welcome Bob to the Walk of Fame to take his place alongside the other greats of the game."
Baffert is one of two trainers in history to capture multiple Triple Crown titles: first with American Pharoah, who ended a 37-year Triple Crown drought in 2015; and, again, in 2018 with Justify. Baffert's 11 Grade 1 victories at Saratoga are highlighted by three Travers victories, including back-to-back triumphs with Arrogate setting a course record in 2016, and West Coast winning the summer's marquee race in 2017. Baffert is a four-time Eclipse Award-winner for Outstanding Trainer, including three straight honors from 1997 to 1999. He has registered 15 victories in Triple Crown races over the course of his career. Baffert was inducted into the National Museum of Racing Hall of Fame in 2009.
"I am truly honored to receive this Red Jacket and to be included with such luminaries as Allen Jerkens, Wayne Lukas and Bill Mott," said Baffert. "Saratoga is very dear to me and to be recognized in this manner with a plaque in the Walk of Fame is something special. I'd like to thank the New York Racing Association and Chris Kay for this honor as well as for bestowing such recognition upon those individuals within our great sport who have given so much of their own talent and energy to make it possible for me to be here today."
Guests in attendance will have the opportunity to view the new Triple Crown trophy, which will be prominently displayed during the Red Jacket ceremony. Commissioned by NYRA on behalf of Triple Crown Productions, the trophy was awarded in its inaugural season to Baffert and the connections of Justify following his victory in this year's Belmont Stakes. Made of sterling silver and 14 karat gold, the trophy stands more than three feet tall and features semi-precious stones representing the colors of the three Triple Crown tracks – green, red and green – with a horse and jockey on top. It was created by world-renowned sculptor Roberto Santo.
Baffert will join a prestigious group of Red Jacket honorees that includes Hall of Fame trainers H. Allen Jerkens, D. Wayne Lukas, and William "Bill" Mott; Hall of Fame jockeys Jerry Bailey, Angel Cordero, Jr., Ramon Dominguez and John Velazquez; owners W. Cothran "Cot" Campbell, Ogden "Dinny" Mills Phipps, and Marylou Whitney; and longtime New York Racing Association race announcer Tom Durkin.
The Red Jacket Ceremony will take place on New York Showcase Day, which features six stakes exclusively for New York-breds, including the $250,000 Albany for 3-year-olds and the $200,000 Funny Cide for budding New York-bred stars.
Comments