Keeneland is a beautiful Race Course to visit
Our 2014 Kentucky Derby Tours first stop in Lexington on Thursday is Keeneland Race Course. We thought we would talk about the track a bit for those horse racing fans that are not with us today.
Keeneland includes Keeneland Racecourse, a Thoroughbred horse racing facility, and the famous sales complex. Both are operated by Keeneland Association, Inc., also well known for its reference library with more than 10,000 volumes, an extensive videocassette collection, and a substantial assemblage of photo negatives and newspaper clippings. Family friend Oscar Otis (retired Daily Racing Form columnist) donated his collection to the library. Before the internet, he spoke about spending hours there researching and how helpful it was to use the reference books.
Keeneland is listed on the National Register of Historic Places and designated a National Historic Landmark in 1986.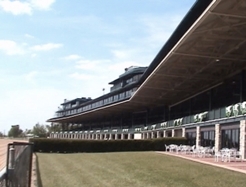 Keeneland was founded in 1935 as a nonprofit racing/auction entity on 147 acres of farmland west of Lexington, which had been owned by Jack Keene, a driving force behind the building of the facility. It has used proceeds from races and its auctions to further the thoroughbred industry as well as to contribute to the surrounding community. The racing side is Keeneland Race Course which has conducted live race meets in April and October since 1936. It added a grass course in 1985. The spring meet contains several preps for the Kentucky Derby (held the first Saturday in May), the most notable of which is the Blue Grass Stakes. The fall meet features several Breeders' Cup preps.
Keeneland takes pride in maintaining racing traditions; it was the last track in North America to broadcast race calls over its public-address system, not doing so until 1997. Most of the racing scenes of the 2003 movie 'Seabiscuit' were shot at here because its appearance has changed relatively little in the last several decades.
Keeneland reshaped the main track and replaced the dirt surface with the proprietary Polytrack surface over the summer of 2006 in time for its fall race meeting. Ironically, this year it will be removed starting May 17 and replaced by a dirt track.
In the thoroughbred racing world, Keeneland is equally famous for its other side—its sales operation. It holds four (previously five) annual horse auctions that attract buyers worldwide.
Keeneland Association, Inc. also owns half interest in Turfway Park at Florence, Kentucky; casino and race track giant Harrah's Entertainment owns the other half interest. Through Turfway, Keeneland also owns a part of Kentucky Downs, near Franklin, Kentucky.
The track currently has a one and one-sixteenth mile Polytrack oval and a seven and one-half furlong turf oval. The turf course uses two configurations: the Keeneland Course setup has a temporary rail set fifteen feet out, while the Haggin Course has no temporary rail.
When you visit there you will see why people love the beauty and traditions that they have to offer.
Tags: 2014 Kentucky Derby Tours, Blue Grass Stakes, Breeders' Cup, Daily Racing Form, first Saturday in May, horse racing, Jack Keene, Keeneland Race Course, Kentucky Derby, Kentucky Downs, Lexington, National Historic Landmark, National Register of Historic Places, Oscar Otis, Seabiscut, thoroughbred racing, Turfway Park
Comments