New banner for Justify at Kentucky Derby Museum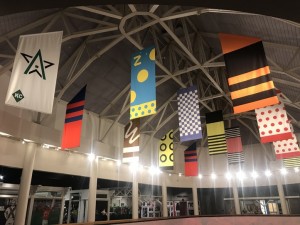 The Kentucky Derby Museum raised the newest banner commemorating the Triple Crown win of Justify. The banner features the silks of WinStar Farm, which jockey Mike Smith wore when he won Kentucky Derby 144 aboard Justify. It was added to the silks representing each Triple Crown winner. Justify's banner makes lucky number 13.
Each banner hangs high over the Museum's Great Hall, where the 360° film, The Greatest Race is shown every hour at ten minutes after the hour in the Museum.
The last time the Museum hung a banner was in honor American Pharoah in 2015. Before his win, the previous Triple Crown was won in 1978 by Affirmed.
Past Triple Crown winners include Sir Barton, Gallant Fox, Omaha, War Admiral, Whirlaway, Count Fleet, Assault, Citation, Secretariat, Seattle Slew, Affirmed, American Pharoah and Justify.
The Kentucky Derby Museum is an American Thoroughbred horse racing museum located on the grounds of Churchill Downs in Louisville, Kentucky. Dedicated to preserving the history of the Kentucky Derby, it first opened its doors to the public in the spring of 1985. Much of its early funding came from a donation from the estate of James Graham Brown.
The museum consists of two floors of exhibit space, including a 360-degree theater that shows the HD video The Greatest Race. Through the film and exhibits, visitors can learn what goes into the breeding and training of a young foal and the path it takes to the Kentucky Derby's winner circle. Every Kentucky Derby win is honored in the Warner L. Jones Time Machine, where visitors can watch any Kentucky Derby from 1918 to the present day. Exhibits highlight the stories of owners, trainers and jockeys as well as the importance of African American jockeys and trainers to the race and the Thoroughbred industry. Guided tours of Churchill Downs' barn and infield areas, jockeys' quarters, "millionaires row" and press box are also offered.
Comments